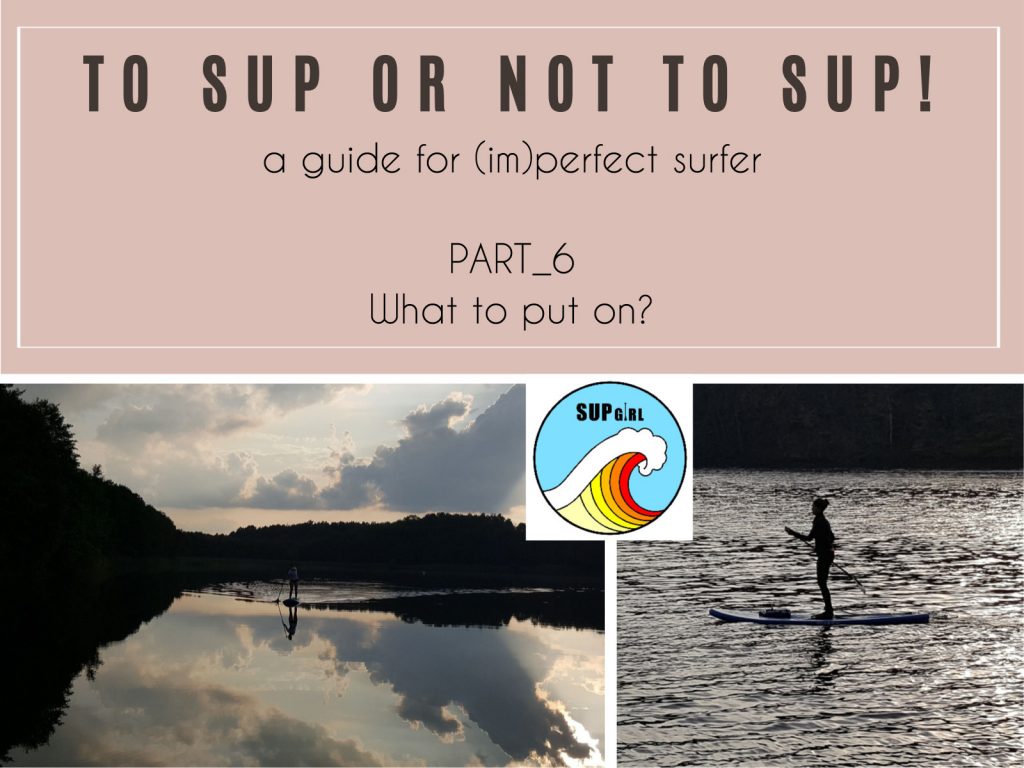 It is said that a woman has nothing to wear regardless of the amount of clothes stuck in her closet.
She wants to present herself fashionably and gorgeous in every situation, even during practising sport. But not me.
I am not a person who requires new clothes for new sport.
The purchase of the SUP board was a huge expense for me which appeared in a bad financial moment of my life. All what counted was the equipment, the rest – including clothes – was irrelevant. It was important what to float on but not what having on. A wetsuit was not in my budget so I put it off to buy it in 2018.
I had to decide on clothes for floating before I stood on my SUP board for the first time. Hence the first thing I did I dived into sports content of my wardrobe. Throwing my clothes on the bed I started figuring what to put on…
Swimming suits, both the glamour model – a rainbow bikini – and one-piece type used once for aqua aerobic classes – were those which I set on top. A non-functional and uncomfortable purple top, crumpled on the shelf, paradoxically bought for comfort while running, I managed to combine with black swimsuit bottom.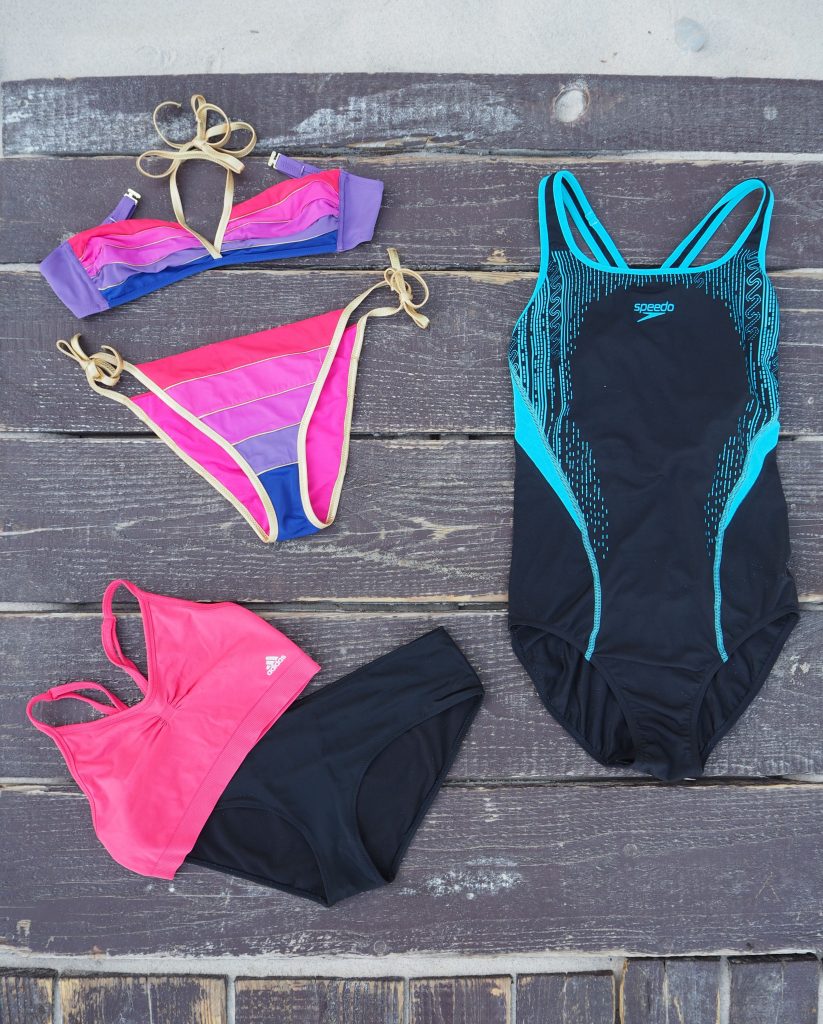 bikini – Calzedonia
one-part swimsuit – Speedo
crossback top – Adidas
swimsuit bottom – H&M
It went smoothly and quickly. It was more difficult to achieve the combination of clothes in conditions not allowing to surf in a swimsuit. Summer in Poland is fickle, the Baltic Sea is the cold one. Holidays on the paradise islands were out of my reach at least in the near future. I kept rummaging…
I took shorts and ¾ length tights for summer, long pantleg ones which I normally use for jogging and roller skating during autumn, a vest top and those with various sleeve lengths, even a male crossfit shirt devoted to me due to the right body shape of the previous owner.
That is how I created more sets for warm, cool and very cold days.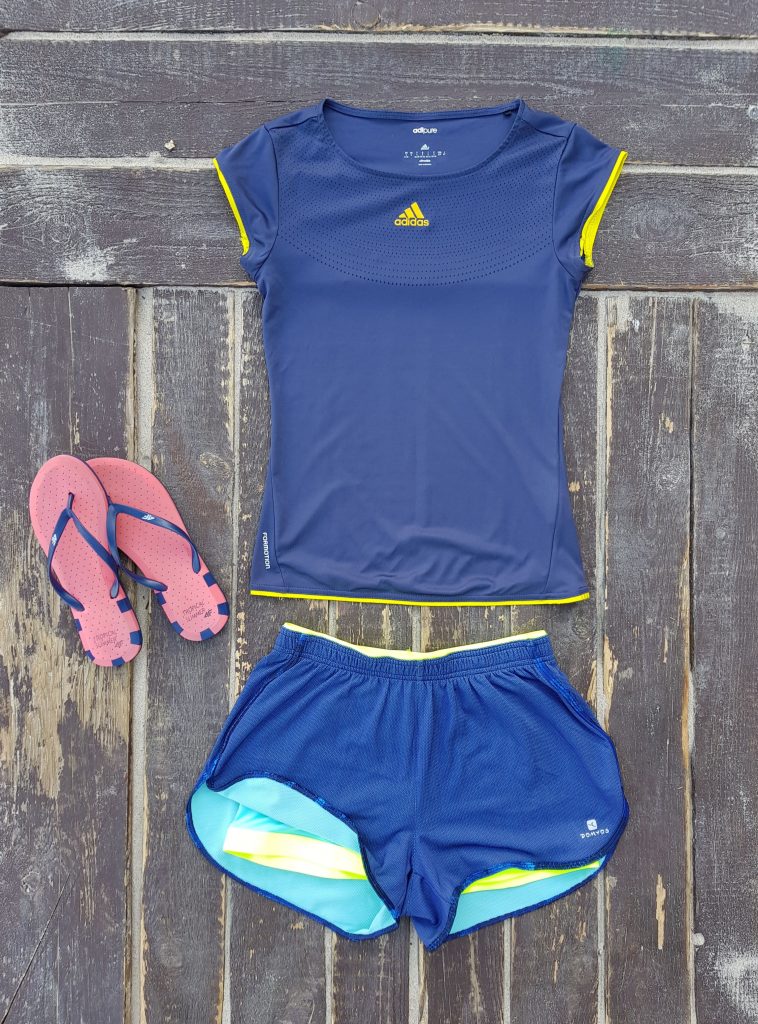 shirt – Adidas
shorts – Domyos
flip-flaps – 4F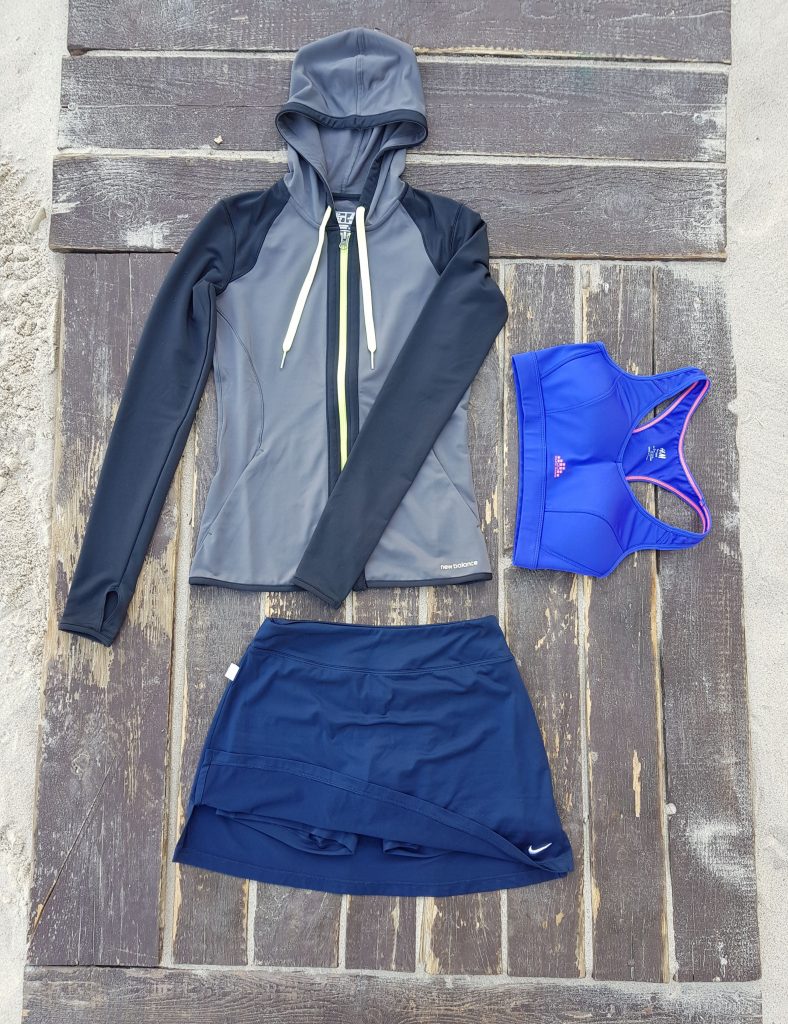 full zip hoodie – New Balance
skorts – Nike
sport bra – H&M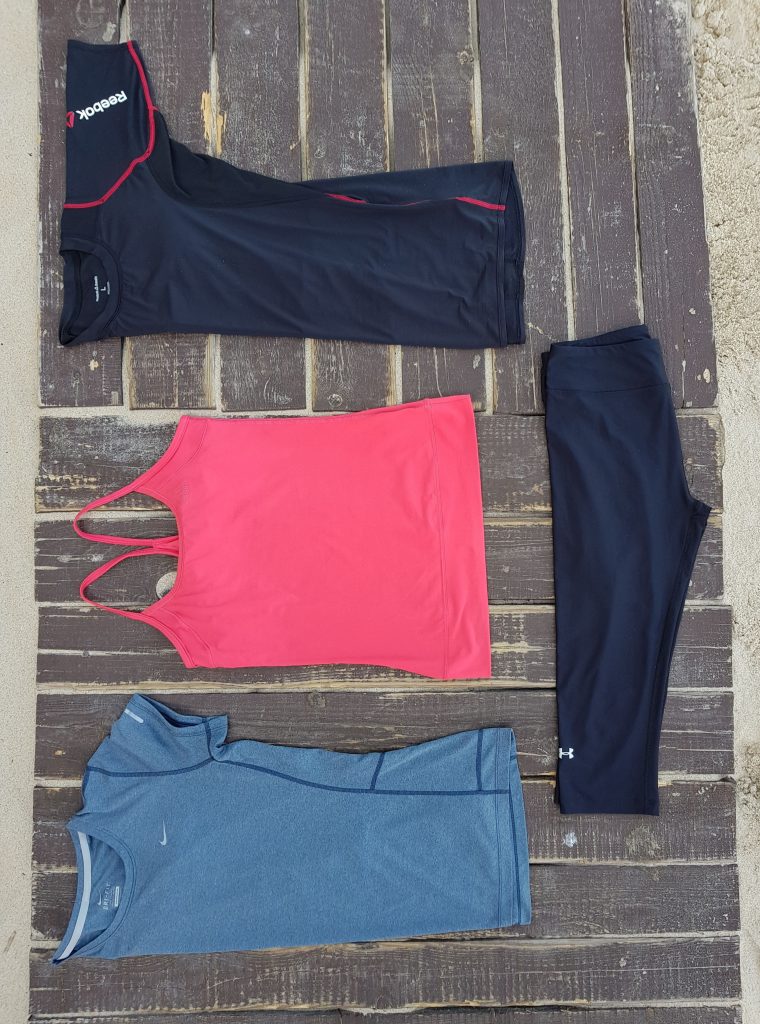 shirt – Nike
tank top – Adidas
crossfit shirt – Reebok
knee tights – Under Amour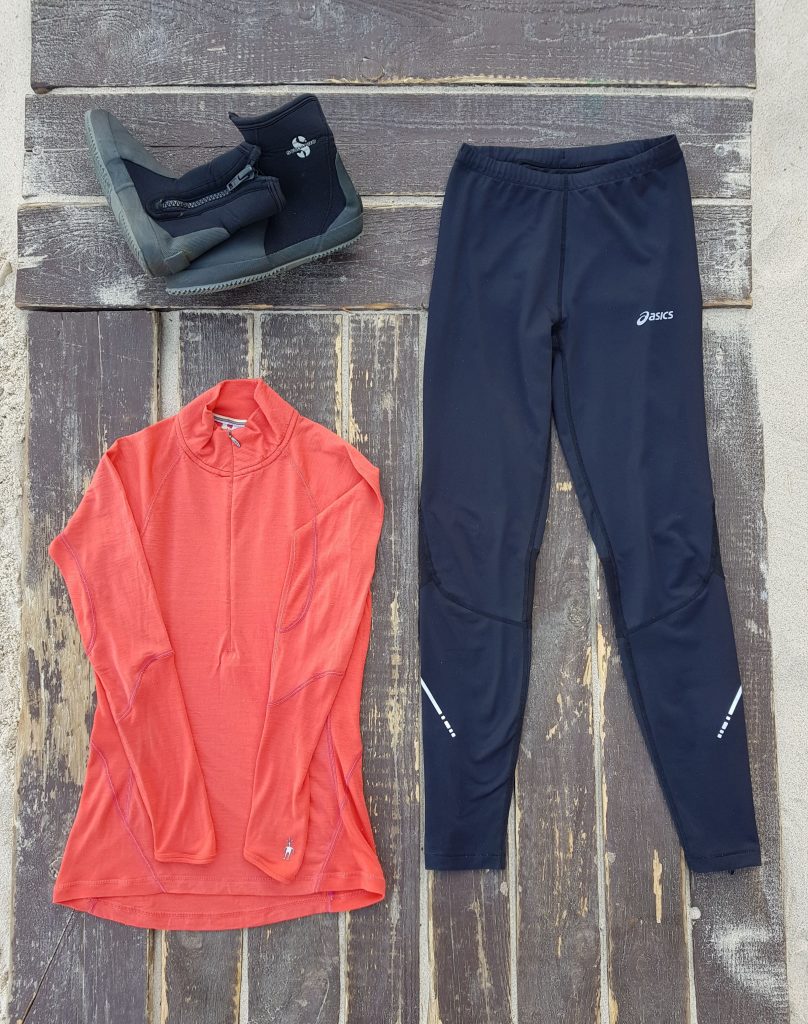 merino seamless blouse – Smartwool
seamless tights – Asics
neoprene shoes – Scubapro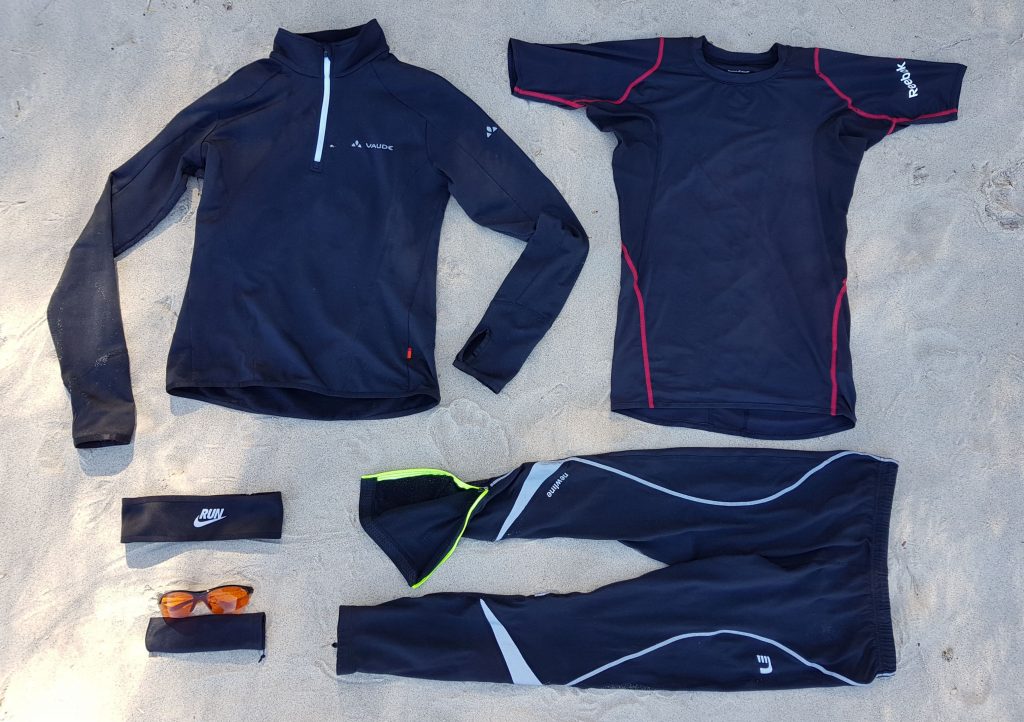 blouse – Vaude
crossfit shirt – Reebok
winter tights – Newline
headband – Nike
sunglasses – Brenda
After one year use of those clothes for SUP sport I may truly admit that swimming suits are the best solution for floating during hot summer in Poland. It is a must outfit for SUP surfers going to warm countries. This is the only alternative that allows sun maniacs to get even and almost complete suntan of their bodies. Of course a cost of tanning lotions is required when deciding to wear this outfit. Don't forget that we get to tan faster being on the water.
Lycra clothes are the best solution for warm and cool days. They don't only draw away body moisture from the skin and quick dry, but also – in order to ability to stretch – provides the user freedom of movements that is necessary when paddling.
Personally, I would rather avoid clothes made of cotton. Although the material is soft, breathable and hypoallergenic, it doesn't work on the water – it dries slowly and is susceptible to creases.
I love to swim in the blouse made of sheep wool (merino). Maybe it is not proper material for water conditions because it dries slowly after contact with water, nevertheless it draws away sweat and provides thermal protection against wind and UV rays. What is more it is nice in touch.
Not once I saved my sunburnt body wearing an orange blouse with long sleeves, so that I could have continued SUP-ping on following days. The merino material doesn't come close to body, which seems to me the only alternative that you can put on your hurting too much suntanned body.
I use different lengths of lycra tights, including winter thermal one for low temperatures, in off-season. I warm up the upper body with thermoactive underwear/blouses and sports blouses.
My feet are protected against water by borrowed neoprene shoes. They are soft, light and comfortable. Moreover not only keep the feet warm, but also facilitate entering/getting out to/from the water on the stony bottom. I can't imagine floating without them on my SUP since I put them on for the first time.
The neoprene shoes are the only professional element of my set. The rest are amateur clothes that do not necessarily work well during the off-season. I am aware of this and I know that clothes for fitness or running won't protect my body from thermal shock, hypothermia when I suddenly fall into the water.
I am said of being unreasonable by my family every time seeing me going to float being dressed in normal sport clothes. I remain deaf to a question what I would do when I felt into the water. I go SUP despite of their remarks and quarrels, which an intensity rise with the air and water temperature drop, particularly during spring – autumn. I know that I risk but the need to practice this sport is stronger. It is impossible to stop me. Even I can't find any excuse that would effectively discourage me to float in cold days.
I have started SUP Season 2018 in May, floating in unpredictable weather conditions on the Baltic Sea. Despite rolling up the pantlegs, I didn't avoid getting the tights wet entering into the water. As a consequence, I swam in wet clothes. I agreed to borrow and try out a swimming suit to have a possibility to compare. Have any of you had the opportunity to be dressed up a nearly 20-year-old men's diving suit?

I enjoyed floating in it so much. At last, I could face bigger wave free of worries of falling into the water. In addition to the mental comfort, by eliminating the fear of bathing, I gained body protection from cold, so that I could have waded through in the sea unreasonably (water temperature at the beginning of May was 12°C). I sat down, kneeled on the board in moments of energy loss, not worrying that the overflowing water would wet my outfit. The wetsuit didn't strangle my movements, so I could paddle without problems. It was difficult to return me to the shore.
Thus, the wetsuit and neoprene shoes are necessary for every SUP girl who wants to be prepared for all weather conditions. It is better to SUP happily on board being dressed in a wetsuit than to float cautiously in sports clothes (especially during cold days) or lie in bed suffering from cold. I recommend you to buy these items as soon as possible.
My piggy bank gets filled slowly. I am going to be prepared professionally for this sport only in autumn. I can't wait.
In the meantime, summer is to come. Time to pull out swimming suits, shirts and shorts.