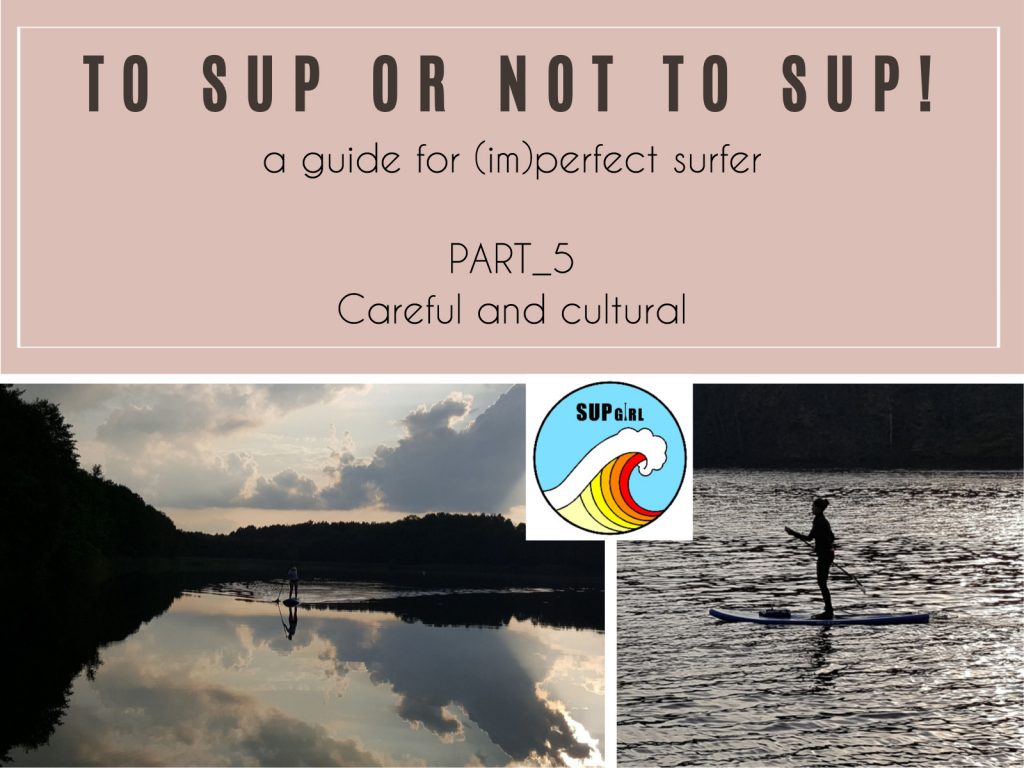 A situation in which I participated last summer was an inspiration to this post. Thanks to which I had a chance to see an irresponsible behavior of a person who had stood on the SUP board for the first time in his life then, which was an extremely illuminating occurrence.
Both the lack of novice's reaction to my instructions and no communication with me, probably caused by euphoria and excitement, created a dangerous situation to the surfer as well as for those swimming in the lake. His lack of imagination at that moment was the reason of changing my opinion about sharing my board with others. As a consequence, it was the first and the last time I decided to lend somebody my equipment. Since then I have stayed emotionally unmoved when somebody is asking me to let them use the Shark (my board) even for a moment.
Today, I regret not recording that situation. It would be an ideal training material for you.
This incident still sticks in my memory that deep that I would like to propose a few rules how to SUP safely and culturally instead of advising you how to float on a board – you can easily find such information on the Internet. I admit to create it by myself, inter alia, using the observations and situations which occurred during the SUP Season 2017.
SUP's Savoir Vivre
Keep all your equipment within easy reach during preparations to float. Remember that you are not the only person, doesn't matter if making ready takes place in a parking, sidewalk or beach. Pay an attention if the place where you put your equipment is clean and clear. Watch out on pieces of glass or objects that can damage the board and droppings left by dogs or other animals.
In the season find a place free from the crowds and bathing people to prepare your equipment and good entrance to the water. The culture requires not to disturb others (the air whistling during pumping the board can be found annoying) and keep safety while carrying the board and get on the water.
Minimize the amount of items carried on the board. Leave those which are unnecessary on land, the best in a car.
Always have a mobile phone with you.
Don't rely on luck. Don't create dangerous situations. If you haven't a life vest, you shouldn't float!
Never consume alcohol before or during floating. Don't SUP drunk!
Remember about protecting yourself against the UV rays. Don't miss: body lotion, sunglasses, hat.
Be careful with the fin of the board. It is the element easy to be damaged. I strongly dissuade to:
– sit on the board with the fin mounted when it lies down on the land,
– throw the board on the ground,
– set the board on the water when the depth of the bottom is less than the fin's height.
I advise to all inflatable SUP board owners to install the fin just before entering the water and remote it immediately after reaching the land to prevent this element from damage.
What is more, I always install and uninstall the fin to the board when it is on the side. I keep such board position with the use of the paddle before I get into the water.

It is great to float with company, which means fun, motivation, support and safety. If you SUP alone, let somebody know about your intention to enter the water. Inform where, when and for how long you intend to float. Tell this person about the end of your activity too. It is a good idea to leave a note with above information and details such as: your personal data and number to the person for possible contact inside your car.
Happily, I am usually accompanied by an observer who keeps their eye on my actions and watches over me from the bank.
Waves and wind are your opponent. Always use the leash. Fix it to the calf, waist (quick-release leash type) or part of the body easy to detach it in case of danger. The board not fastened will disappear beyond your reach in the blink of an eye when you recover yourself from falling into the water. If you experience such situation remember that you chase the board first to get back on it again. Then start looking for the paddle.
After entering the board take the crouching position.

It is better to stand up on the board after getting out of the "crowded water area (zone)".
Watch the surrounding and people being next to the board. Pay attention to where and how far you operate the paddle. Regardless of your skills don't get on the board immediately to the standing position. Losing your balance and in consequence falling into the water may end unluckily not only for you but also for people near your board.
The board is the main element that will keep you on the water surface. Keep calm after falling into the water. The procedure to follow is the same: reach your board as soon as possible, next find the paddle. Such situation won't make as big impression on you while floating on the calm water as on rough sea which can cause a panic attack.
While floating on troubled water try to maneuver your board keeping it's nose perpendicularly against waves direction. You will lose your balance setting the board sideways (parallel) to waves which may end in unwanted bath in the worst case.
Paddle in the sitting position or lie down on the board and use your arms in moments of powerlessness, injury, danger. You will reduce air resistance and use the rest of your strength efficiently to reach the land.
Never bite more than you can chew. You will often float in changing weather conditions. The struggles with waves, wind can make you tired soon. It is worth having a drink and an energy bar with you to help to regain your strength in the moments of crisis.
Don't leave rubbish! There is nothing more frustrating than floating with plastic packages around you.

Water is an element. It is not a joke. When floating on the board be vigilant all the time. It is impossible to predict all risks. Humility and prudence are what counts.
I have recently provoked the fate deciding to learn how to surf on the Baltic Sea on April 30th, 2018. The overcast sky and strong wind on the one hand emphasized dark color of the water, on the other created an ominous expression of the situation. I was paralyzed by the view of the rough sea, which delayed my entry into the water.
I struggled with fear, being dressed in a borrowed wetsuit. It was difficult to control the board and the paddle – while both entering the sea and surfing – in such conditions. It was almost impossible to keep the balance on so strong wind, and consequently every attempt to stand on the board ended in bathing. I won't forget when I fell into the water for the first time. Immediate panic attack: that I am in the water, that I surf alone on the sea, that I can't see my paddle. I only heard my breath. I wasn't able to control the situation. Everything went really fast. I didn't know where the shore was because waves blurred the visibility.
Thanks to the leash I managed to reach the board quickly. However, entering on it was a real challenge. The wind blew me off the board even I was sitting on it. Dark color of the water made my black paddle less visible, so it was hard to identify it's position.
Climbing on the board and cooling my body down took my strength away that I could hardly hold the paddle in my hand at the end of surfing.
It was a challenge. The first one in my life. I got a good lesson. I do not know if I would repeat this adventure today.

It doesn't matter how big knowledge we have, how we are prepared physically and mentally to SUP. There always will be situations which surprise us and exceed our expectations. Therefore, let's be prudent and careful.
Concluding today's post, I would like to recommend you an interesting article "Safety first" written by Ania Nadolna (unfortunately in polish).
Just in case…