I describe my skin as dry after a whole day of floating on SUP. It is like desert warmed up by the sun and dried by the wind. Although I care of proper hydration drinking liters of water and my favourite natural electrolyte – coconut water – I can't handle without intensive moisturising and regenerating cosmetics.
I became a fan of natural cosmetics of Polish brands. I decided to include resibo and ALKEMIE products to daily care set for the SUP Season 2020. I found them in a beauty store JEJU like every year but this time shopping online.
'EVERYDAY' BODY CARE SET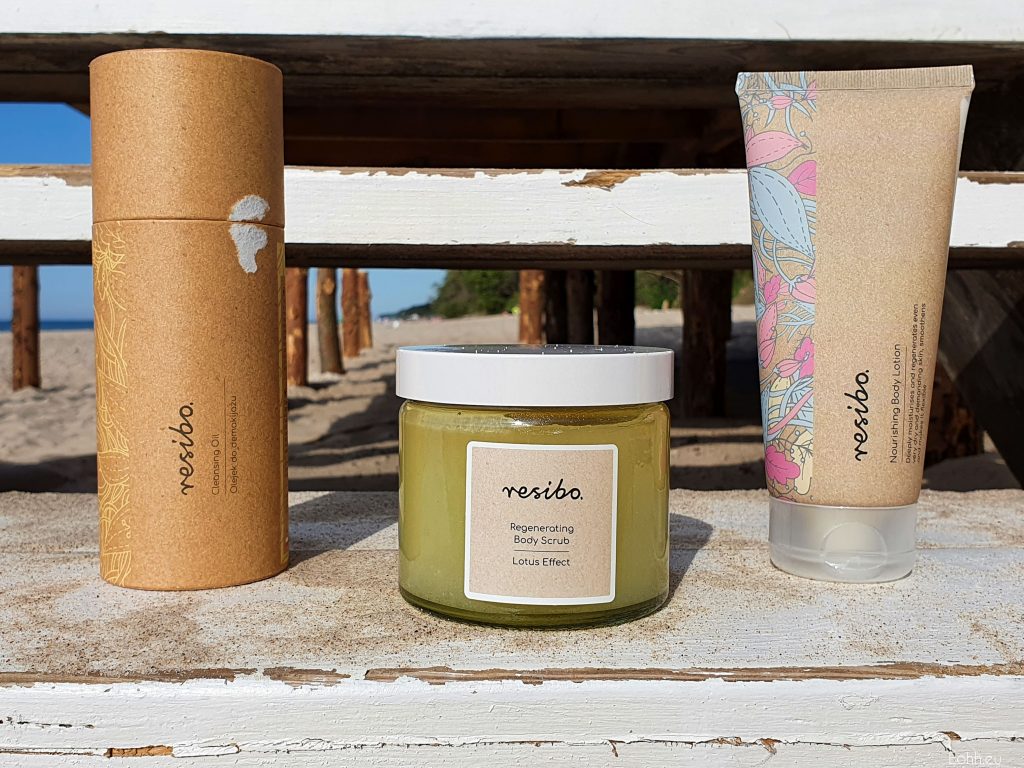 regenerating body scrub. Lotus effect – resibo
nourishing body lotion – resibo
cleansing oil – resibo
I was delighted with resibo brand since its first use. Fine – grained salt scrub and body lotion that I bought turned out to be a hit. They nourish and regenerate the skin perfectly. Both products are very efficient. A small amount is enough to provide the skin a portion of moisture. I like the creamy texture of cosmetics as well as a delicate and refreshing aroma.
Cleansing oil is a novelty in my evening facial skin care. I was convinced to try it by my friend who spent a couple of weeks on persuading me to "oiling the skin". In the end she gave me the cosmetic seeing how I quickly appreciated its moisturising properties which ensure cold-pressed oils, including my favourites: linseed and avocado rich in vitamin E – antioxidant smoothing and evens out skin tone. Because I don't do makeup every day I use oil to dissolve sebum and remove impurities. I rinse the cosmetic away with warm water and small amount of IWOSTIN face cleansing foam available in pharmacies. I take a cloth included with the oil to exfoliate gently dead skin once a week. I have reduced moisturising creams since I started using resibo oil.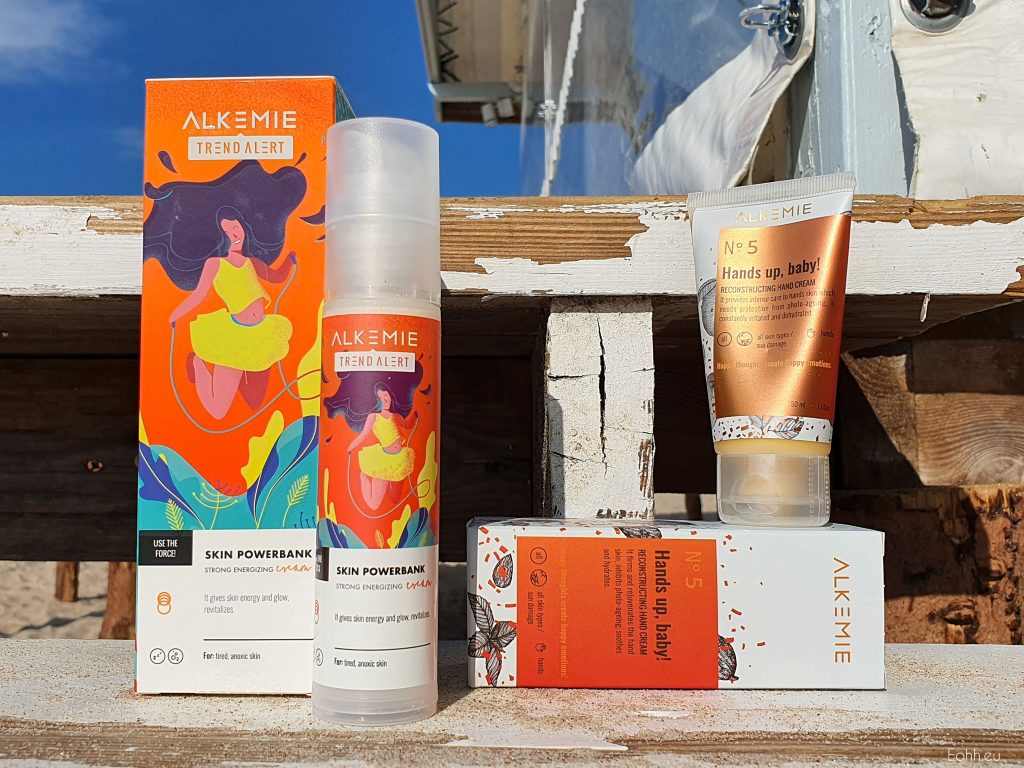 Use the force strong energizing cream – ALKEMIE
Hands up, baby! reconstructing hand cream – ALKEMIE
The vegan face cream Use the force by ALKEMIE is a revitalizing and nourishing remedy for my dry skin. The rich composition – including shea butter, algae complex, Bellis flowers complex, argan oil, jojoba – restores the physiological balance of the skin, protects it from external factors (UV radiation, environmental pollution) and inhibits ageing process. I really appreciate the soothing properties of the cosmetic which comforts my skin irritated by allergy and sun. The cream has a light texture and absorbs quickly. The skin stays smooth and moisturised for a long time. Although I use it at night, I don't mind its delicate citrus aroma. I'm pleased with my purchase. This is another cream of this brand that provides me complex care.
I learned about an orange series of ALKEMIE cosmetics last year using the Hello Sunshine reconstructing bronzing face cream dedicated to skin exposed to sunlight. I use this season Hands up, baby! hand cream with the same properties: soothing, moisturising and inhibiting the skin photoaging process.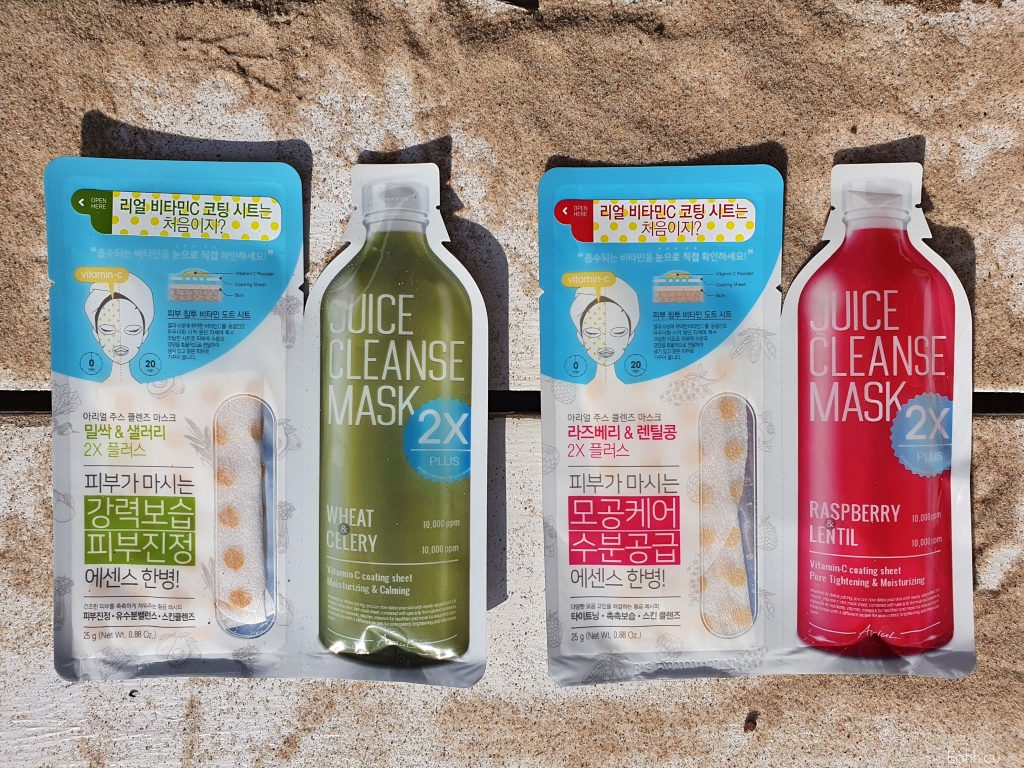 moisturising – calming sheet mask – Ariul
tightening – moisturising sheet mask – Ariul
I have been looking for face sheet masks of Polish brands unsuccessfully for two years. Now I use Korean make ones. I'm a fan of this type of care so it is my must have for Summer which I apply once a week. The mask brings relief and effects in moisturising and soothing irritated skin with the sun which appears immediately after application. I chose this time moisturising – calming and tightening – moisturising Ariul sheet masks with fruit and vegetable extracts and vitamin C.
'ON SUP BOARD' BODY CARE SET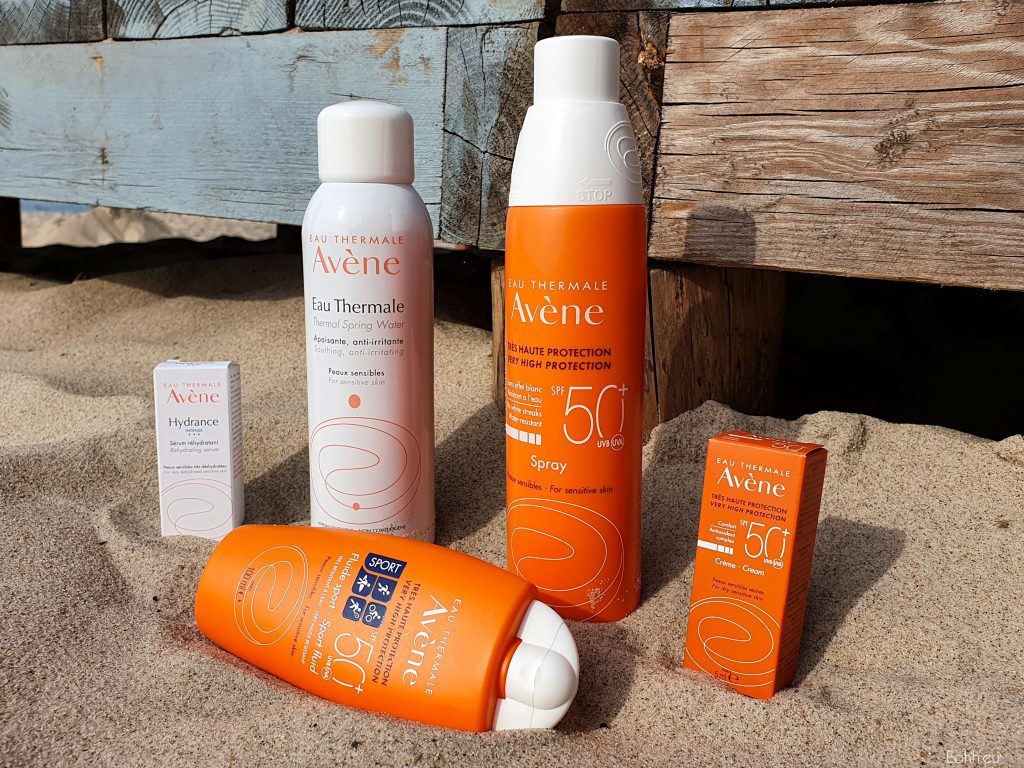 hydrating serum – Avène
thermal spring water – Avène
waterproof spray SPF50+ – Avène
waterproof cream SPF50+ – Avène
waterproof sport fluid SPF50+ – Avène
Skin protection against sun rays provide products of the French company Avène available in pharmacies. I have trusted the brand for years. I like the light texture of the creams, the delicate aroma and ease of absorption without leaving white streaks and sticky film on the skin. The way of application is equally important to me. Both the spray and pump allow not only economical dosing of the product but also keeping 'sterility' of content during use. I chose waterproof body and face creams with SPF 50+ filter. I apply the spray with larger capacity before going out. I take fluid sport cream with increased water resistance with me on the board just like samples of creams including moisturising ones and thermal water without which I can't imagine my SUP board body care kit.
The full range of cosmetics compositions are available on the beauty store JEJU and other manufacturers' websites: