If I could erase one day in the year from a calendar I would choose my birthday. I have been trying to survive this event with dignity by doing something special since I turned 30. The mandatory, and of course enjoyable, part of the day's program is meeting up with my friends. Whereas SUP – ping is my new way of celebrating my birthday, which not only improves my mood but also helps me accept the fact that I'm 1 year older.
Floating on my SHARK board on the Baltic Sea, dinner and dessert in the Wy&Spa restaurant in Pobierowo were my birthday plans for this year which were unfortunately destroyed by an awful cold. As a result, I spent in the bed on Saturday, October 13th, being dressed not in glad rags but pyjamas. I made a wish, blew out my candles and chased an orange cake with aspirin pretending that it was sparkling wine. Fever, runny nose and emotions, accompanying me when unwrapping my presents, tired me enough that I fell asleep after 30 minutes of the family event.
One of the gifts stayed unwrapped. I guessed what was the contents so I decided to open it at the seaside when finally fulfilling my birthday plans. After all, unique gifts require a special setting.
The period of getting better continued for the next 2 weeks during which my desire to float on my board were cooled down with a big dose of maternal reason.
The much anticipated moment of birthday SUP-ping, as well as spoiling myself in the Wy&Spa restaurant, occurred on November 4th. I could finally open the present. I sat on the sand with the gift in front of me. The company's logo betrayed everything. I knew already what was inside. I tore open the protective film that covered the beautiful box.
That looked my happiness in 4 frames: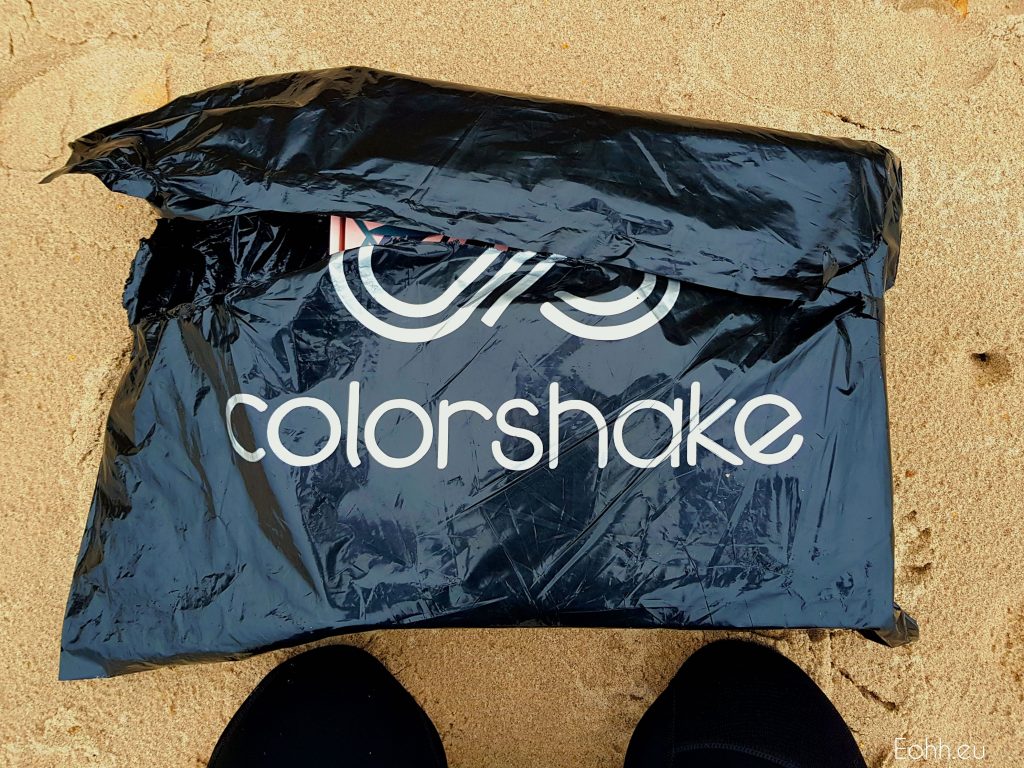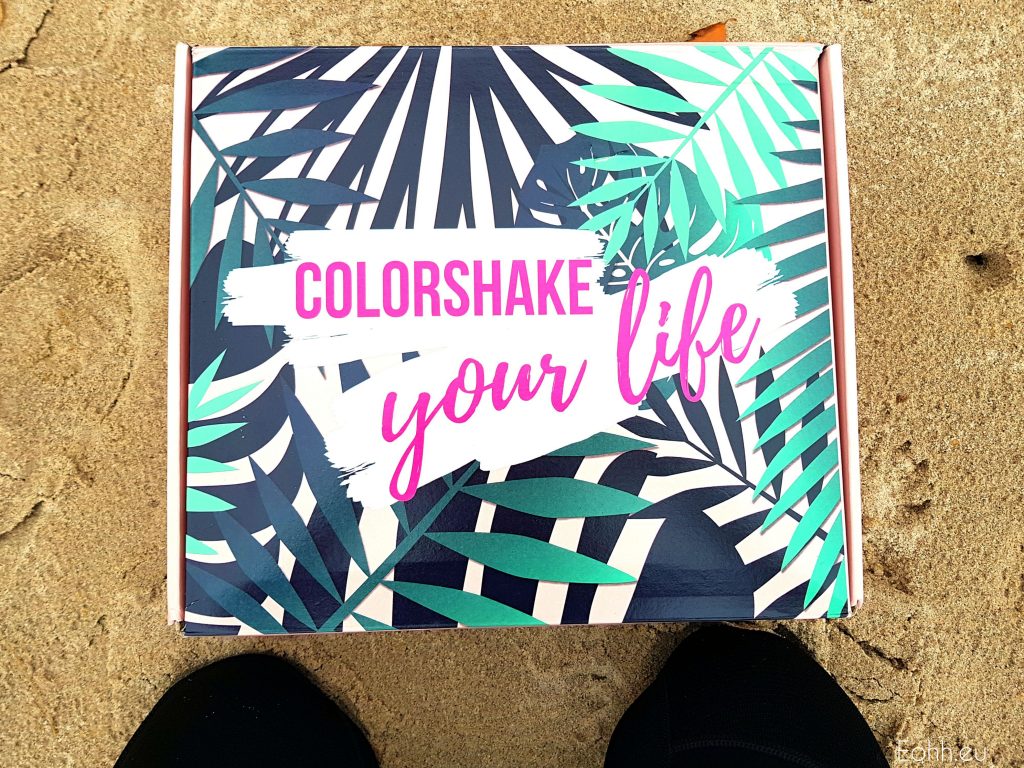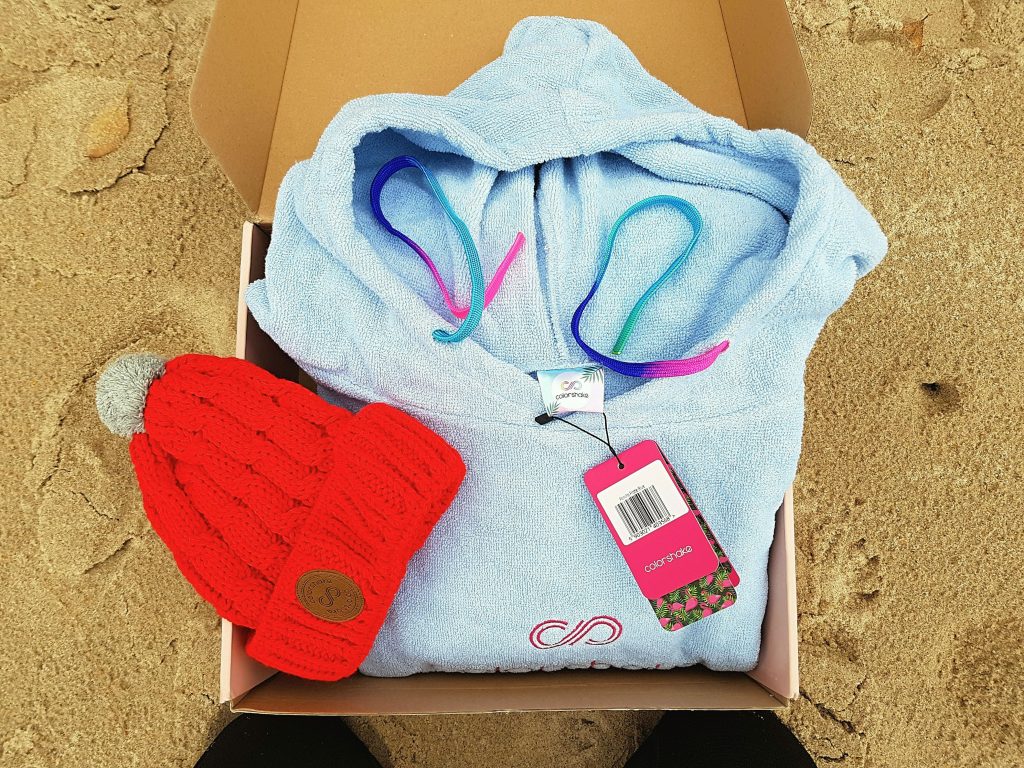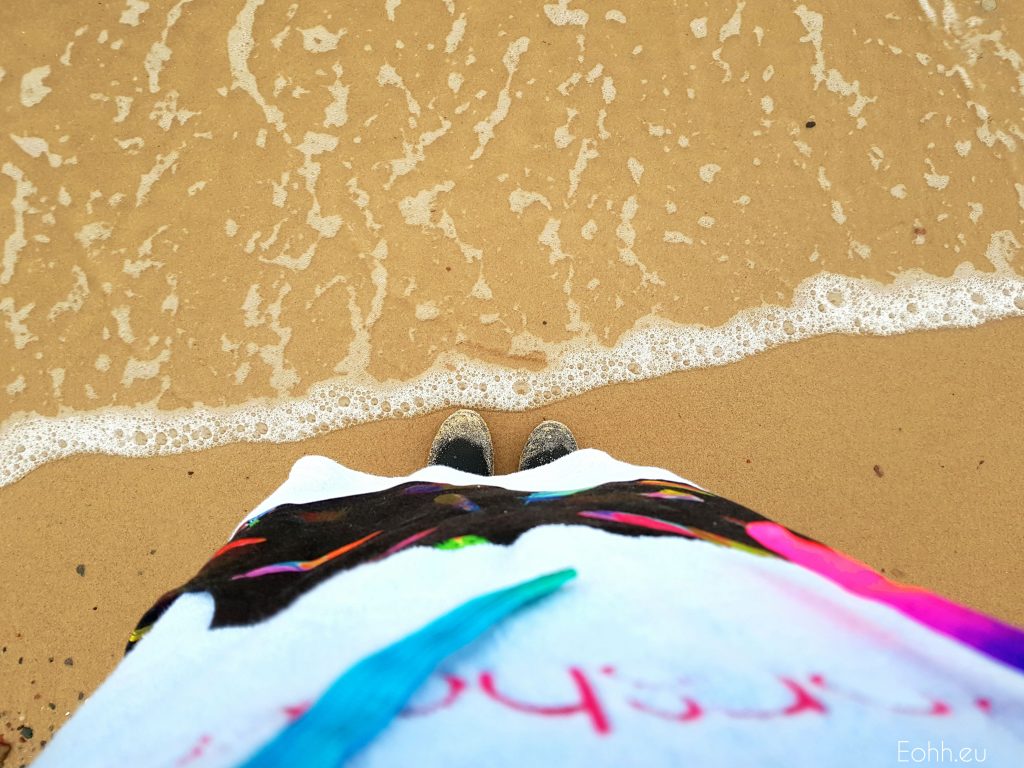 Being the owner of a sky – blue poncho was my dream since I saw it on the online shop of the COLORSHAKE company. The photos on the Internet didn't show the product's beauty. I couldn't take my eyes off it. My attention was drawn to details such as rainbow toggles and deep pocket with feather prints. I couldn't believe that the poncho was now my property. I finally put it on over my wetsuit which was the practical idea to warm my body up after floating in autumn.
There was something more in the box, a red hat with a grey, fluffy bobble. Soft, warm and comfortable. Just right for SUP – ping on cold days.
The poncho and hat are now the mandatory elements of my SUP wardrobe. I have had a chance to wear them during variable weather conditions such as rain, frost and wind although I have been using them since November. They provide me comfort and warm me up in any situation. Even during a nap on the passenger seat whilst coming back home after a successful SUP trip.
It is not a coincidence that I set this post at this time of the year. 12 days left to Christmas, enough to think about the list of presents you would like or ask the person you are buying a gift for about their preferences. Both clothes and gadgets for SUP or, simply, ask the family to donate money to a kitty for a sporting need, are always practical and good ideas. Believe me, the appetite for equipment and accessories comes with SUP – ping.