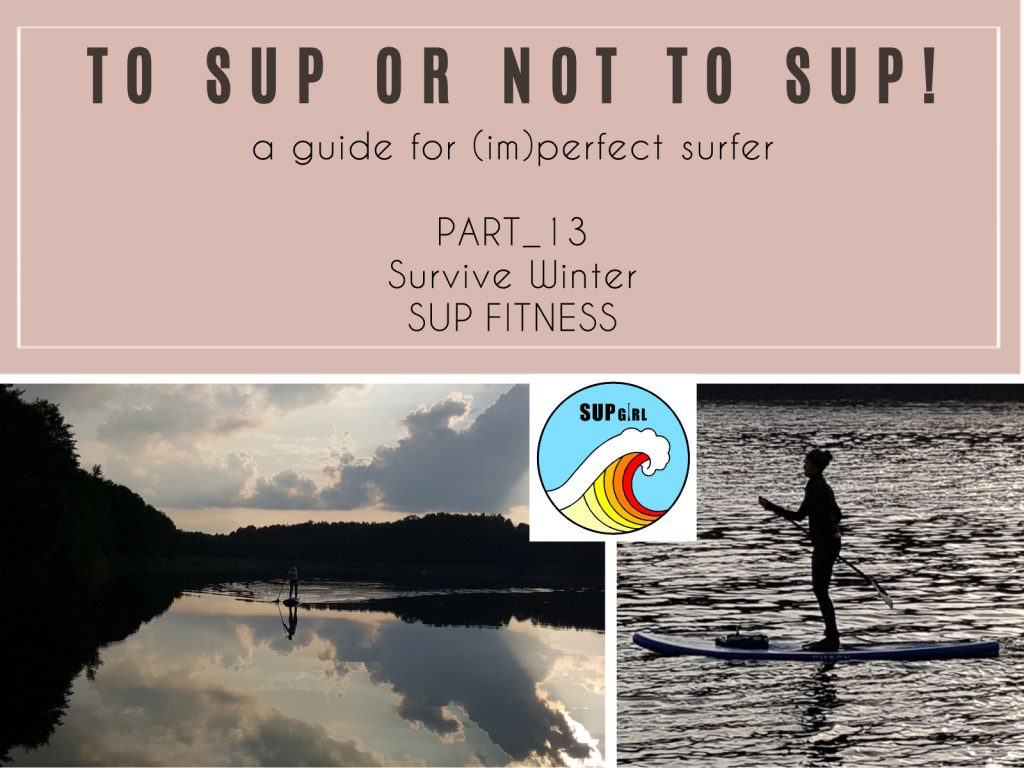 I'm publishing today's post at the anniversary of my meeting with Beata Dąbrzalska the SUP Fitness instructor. A short interview about the benefits of floating on the SUP board was the result of our chat in Stojaki café at the end of February 2018, which enriches substantively Part 1 of the Guide for (im)perfect surfer TO SUP OR NOT TO SUP in my blog. That was when the SUP FITNESS slogan appeared for the first time, for classes I managed to join only this year.
The form and slightly humorous content of today's post is my thanks to Beata for cooperation and gratitude for promoting this sport.
SUP FITNESS
4… 3… 2… 1… I join the instructor to countdown silently the last repetition. I dream about a moment of having a rest before moving on to the next exercises or repeating the series. It is difficult although the warm-up didn't predict a crisis in my body. I was mentally prepared for bigger effort. I knew it would be harder than at SUP YOGA classes.
Further. Once again 4… 3… 2… 1… Right arm up, then down and change. Stronger. I keep the concentration since the beginning of the classes, despite that the thought what harm I did to myself passed my head through. Arm swings, raise legs, body twisting all of them are boring while doing on "the land". The same exercises become a training terror in the moment of having unstable base under myself.
I hear 4… 3… 2… 1… waited for. Relax. I loosen up. I breath. I feel hot. I'm thirsty. I search for cooling my body immersing my hands in the water. Alas, it is warm and doesn't bring relief.
Squat and up, squat and up. I wave my hips like a mermaid, reminding myself the belly dance exercises. Maintaining concentration, catching balance, observing, listening and following Beata, correcting my posture and verifying the correctness of performed exercises which are all I must handle at the same time being on a floating base. The harder it gets, the more I get tired. I look at water more often. What if I dive in, maybe no one will notice?
We start the next exercise. Energetic music brings out the rest of my strength hidden somewhere – I do not know where – deep in my body and the last layers of motivation in my head. My muscles burns. Hope they won't get self – ignition. I keep the tempo though my stomach is reaching my throat. This is the time when I promise myself that I end up with sweets, delicious, hot latte and an evening stodging.
4… 3… 2… 1… Break. I fall on the board. I look at the clock, 15 minutes left. Last repetition of the thighs and buttocks series. The worst one. I don't give up. I squeeze my belly to the limits, I stick myself to the board with every part of my body just touching it. I correct my posture to get the balance. It gets worse and worse because I haven't got myself such a drubbing for a long time. The lack of stamina disturbs me. I'm angry that I neglected myself so much. I feel 3 kg overweight at my thighs.
I revive when exercises take place in a standing position. Especially one of them appeals to me. It is comparable to shimmy in the belly dance. I bend the right and left leg in the knee fast alternately, putting my hips in the motion. I feel the board swinging under my feet. I got exhausted on it, letting my anger out. I glance at girls whether they are as tired as I am.
And 4… 3… 2… 1… Stretching. Finally. Is it the right time to say that I survived the classes? I recline, stretching my thighs. I stare at me and the board's reflection in the blue ceiling. Despite the tiredness and pain in my muscles I smile being pleased with myself.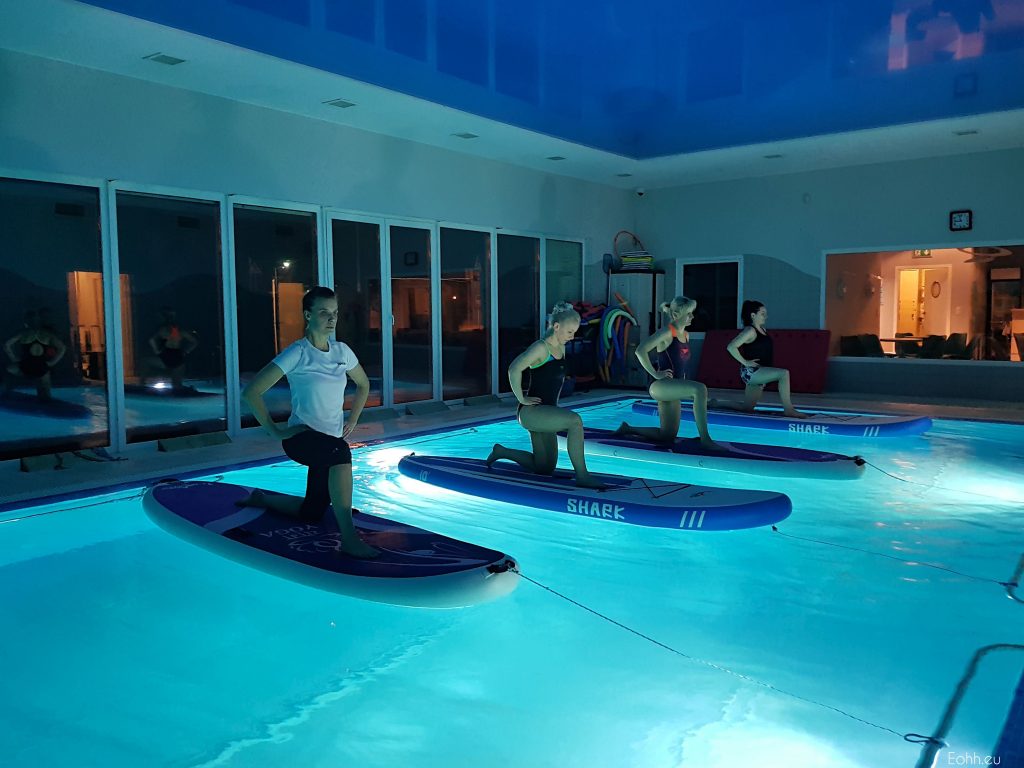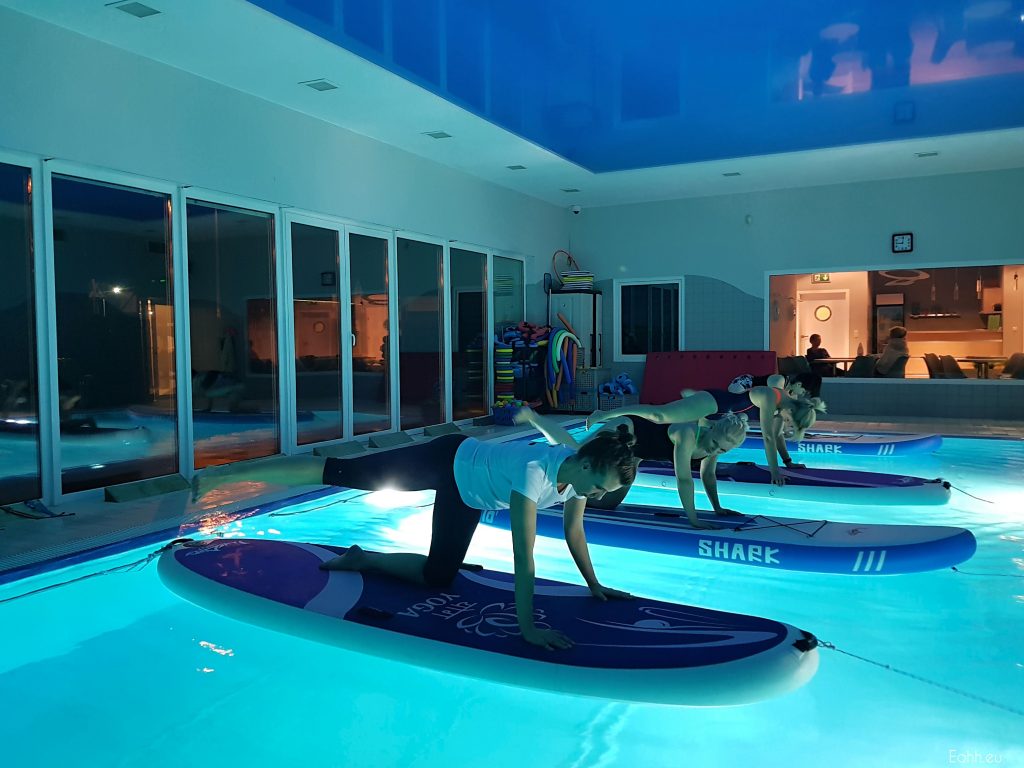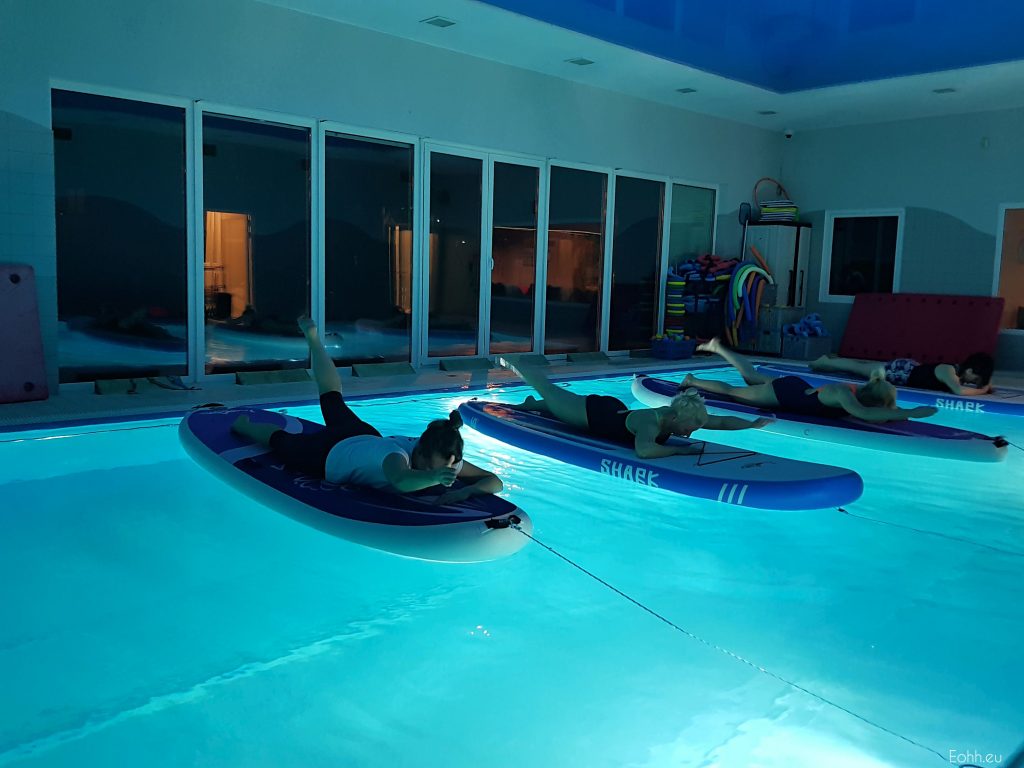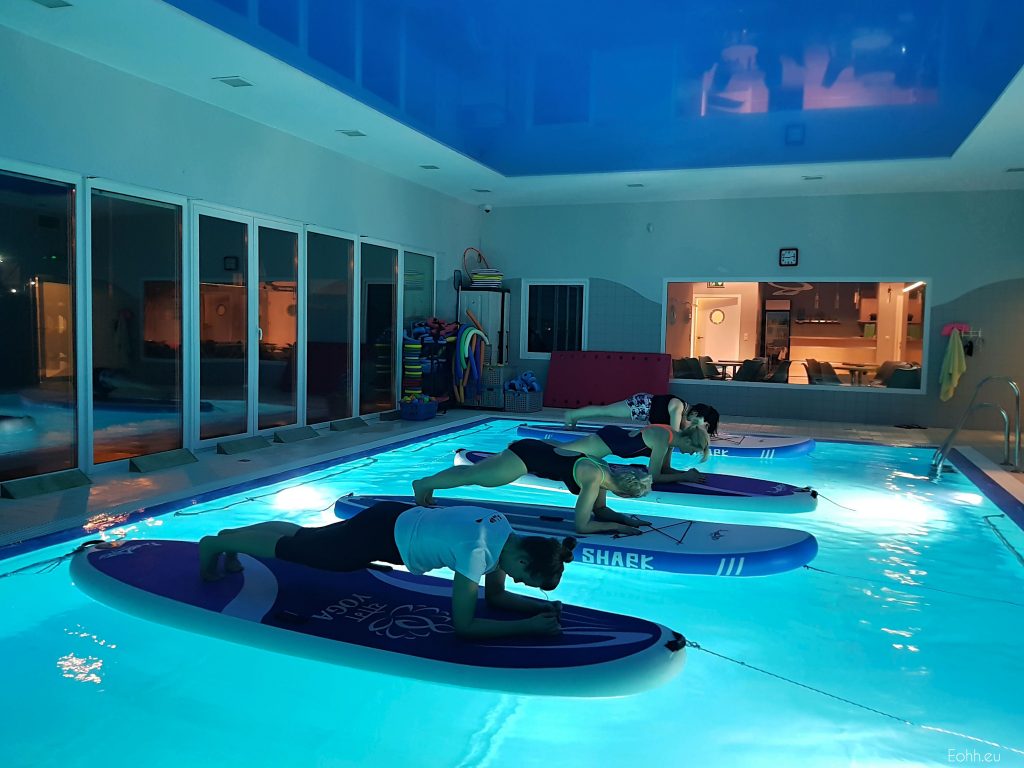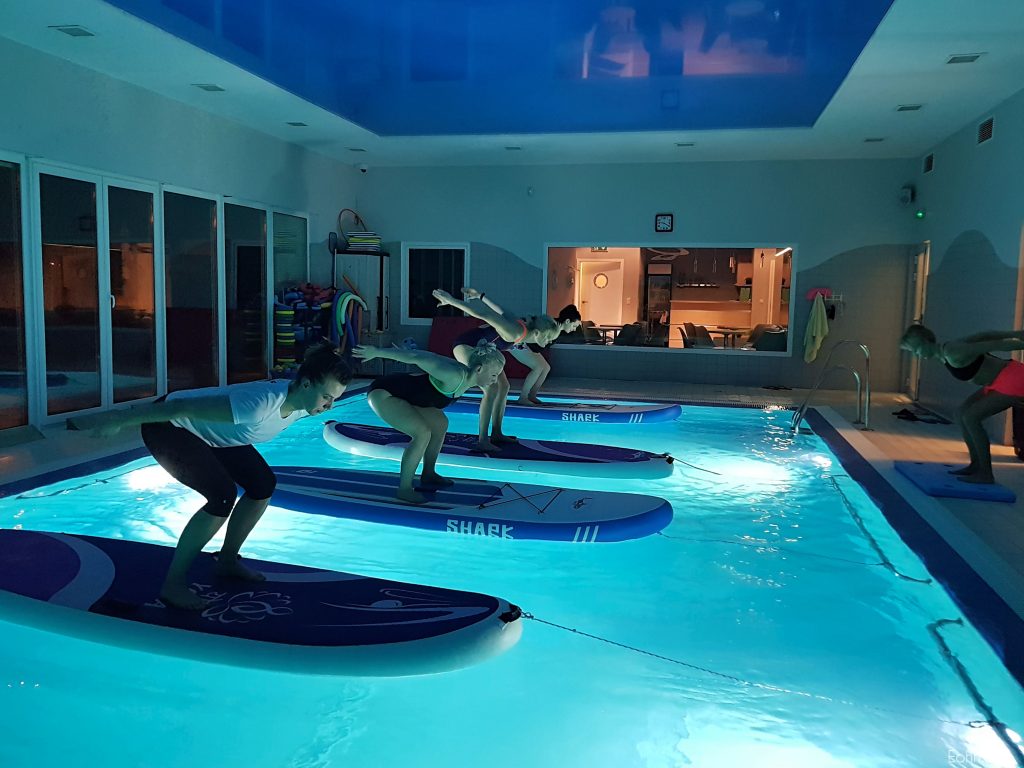 I come back home dreaming of a glass of cold water, fast shower. I lie down with thinking about tomorrow morning, if I will be able to get up. I fall asleep with hungry feeling, however not for food but the sport for more such trainings.
The most important information:
NRGY SUP Spływy Wypożyczalnia
Instructor Beata Dąbrzalska
STREFA H2O
Mierzyn, Topolowa Street 2
Free parking lot is available.
Buses no. 108 or 124.
Monday, Wednesday at 8:50 PM
The current schedule is available on the NRGY SUP Spływy Wypożyczalnia and Beata Dąbrzalska Facebook.
1 class – 35 PLN
4 classes – 120 PLN
MULTISPORT card is not approved.

SUP boards and fitness accessories are provided by the organiser.
Comfortable, providing free movements. A swimsuit, top, shorts are the most convenient option especially that getting on the board is possible only from water.
Do you face the challenge? Are you ready for that? Really worth!