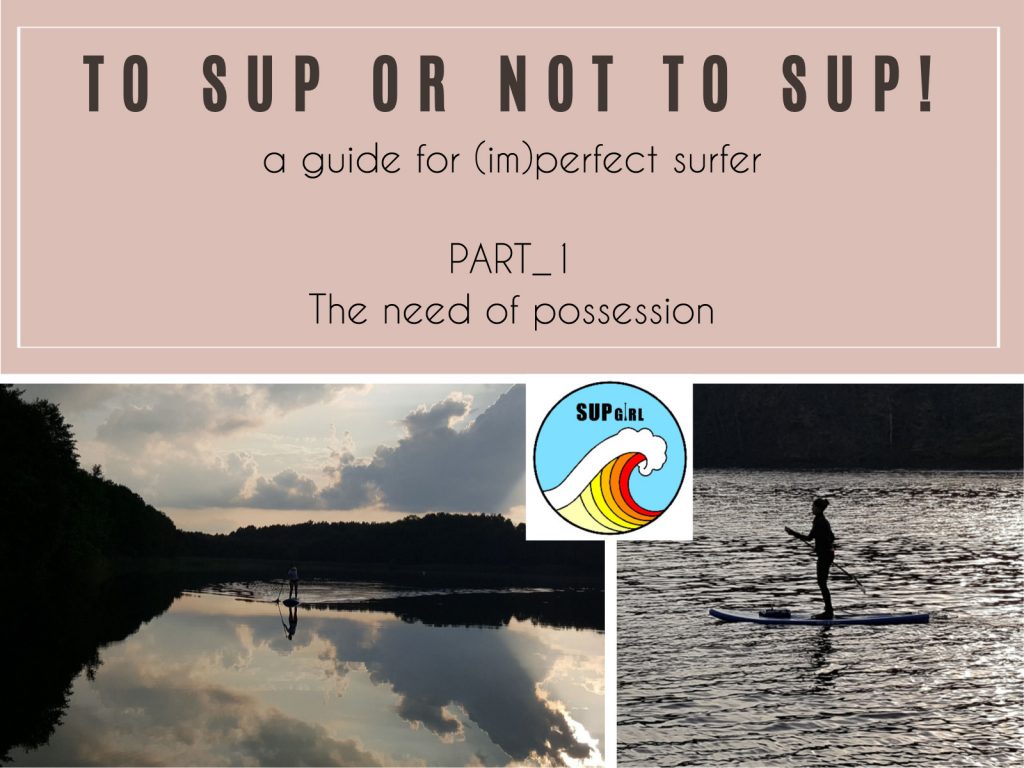 Let me translate my short piece of poetry although it sounds better in Polish. I will do my best to give you the sense of it.
"To SUP or not to SUP"
To SUP or not to SUP – that is a question.
For those who like sport and activity that can be a challenge.
It is not an art – they say – to keep equilibrium,
What is difficult to paddle on sea, river or channel.
Well … boasts, negations are in fashion today.
And not one "brave" critic after entering a board finished in cold water.
It is for me a skill, challenge and passion,
Practicing fitness, keep immunity, a chance to escape from the city.
Discovering nature, relaxation, a place for sweet photo,
New friendships, an adventure and catch a tan on the fly.
If you want to buy SUP be rational,
Consider the pros and cons before you part with your money.
Is it a fashion fad, a fleeting whim?
If it is really a thing you can't get without every morning.
I may SUP even at the end of the world,
And I don't care about weather or fact that summer is gone.
Sorry, there are no rhymes in English. If you need them, learn Polish.
However, an unexpected inspiration and here is a quintessence in several lines.
I'm a person who needs access to water for living. I was born and live in a city – reputedly a sea port although we have 100 km to reach the Baltic Sea – but we have an access to the Odra river, the Szczecin Lagoon and couple of lakes for sure. I studied hydroengineering. I designed hydro constructions in Poland. I used to spend holidays at the seaside and I admit that my preference is resting at water than in mountains.
Everywhere water, water, water ….
SUP was the only sport I practised last season and became a pretext to spend every free second floating on surface of water around city which let me forget problems in the difficult moment of my life.
SUP requires incredible concentration and body movements coordination. I can be so focused while floating on the board that my brain can't think of anything else. Unnecessary thoughts in my head are cut. Then I rest, so I love it.
I get the same experience doing nordic walking. It influences my soul soothing – zero thoughts, only concentration on body movements synchronization.
It is enough to float away from shore. It counts here and now. Troubles and people stay on shore. The focus and being afraid of falling into water are so stressful at the beginning that I almost forget to breathe, and the whole body is tense and stiff. I hate a depth and seaweeds but after few minutes when I feel stable on the board I feel relieved. I contemplate nature, listen to sound of water at the paddle. It calms me down and paradoxically, I start feel safe.
I heard an opinion once: "What sport is this SUP when you only stand on a board and paddle".
That is true. You stand and row. Nothing more. In fact canoe is more comfortable – you sit and paddle. Are we really able to increase your shape floating on SUP board?
I asked Beata Dabrzalska – the owner of Bene Dance School, a fitness instructor with many years of experience.
Engineer on High Heels: I know that you run SUP FITNESS classes. How came that you started trainings and when did you start?
Beata Dabrzalska: A friend of mine and her husband run The Energy Sports shop selling equipment. She organizes rafting also on SUP. We came up with fitness at the pool to use boards during off season. This is how it began. We started in October 2017.
EoHH: You are the only one person organizing such classes in Szczecin, aren't you?
BD: Yes, I'm the only one instructor of fitness on SUP boards. Classes take place on "H2O Pool" in Mierzyn. Activities of SUP Yoga are held there too.
EoHH: This sport has led me to addiction since I stood on SUP board for the first time. It has become my favorite way of spending time. How about you?
BD: I saw such board with paddle in Spain in 2016 where I learnt to SUP. I enjoyed it so much. I haven't much time to do that sport due to everyday duties. I use opportunity to SUP whenever I spend holidays on the seaside. That is why I accepted the offer of SUP FITNESS classes with enthusiasm.
EoHH: How floating on SUP board effects on our body?
BD: All muscles are involved in order to stay afloat and keep your balance on a SUP board. Maintaining your balance forces such body parts as abdomen, glutes and thighs. Paddling builds up back, dorsal, arm and chest muscles. The position while you SUP causes more effective work of muscles so they become strengthened. Our body is being shaped in this way.
EoHH: Who would you recommend this sport?
BD: All of you. Floating on SUP is dedicated to anyone regardless of age and sex.
EoHH: Are there any contraindications?
BD: If you have any problem, you should consult it with a specialist and ask for advice at first.
EoHH: Can pregnant women do this sport?
BD: If the pregnancy is going smoothly I think so.
EoHH: Thank you for an interview.
BD: Thank you. I encourage everyone to practise this sport. And in the off season, I would like to
invite you to my SUP FITNNESS classes. An hour of exercise is enough to get rid of the blues and charge yourself with positive energy for the next days. All information available on Facebook profiles: Bene Dance School and NRGY SUP.
SUP is the only sport for me bringing relief to my body and soul. It develops both cerebral hemisphere as well as motor coordination. It keeps me fit. Floating on a board regardless of weather conditions or time of the year has made my body resistant to infections . I'm far less prone to get ill.
Enough arguments? Convinced you?
We give in to fashion easily. We shop spree sometimes. We are accompanied by temporary remorse when another sport equipment lands in the attic. Writing the above I would like you to avoid such situations. Think carefully whether you really want to do this sport because the cost of SUP board is high whenever you choose new or second hand.