The most interesting questions while asked during job interviews were: "My interests", "Who I would like to become if I hadn't chosen technical faculty" and "How do I see myself in 10 years". I was surprised how fast I answered every time: "I am a SUP maniac. I would love to be a professional surfer. I see myself on Barbados beaches teaching yoga, SUP, healthy and slow life in my own camping center in 10 years". I can't know if my answers satisfied the recruiters.
Actually I astonished myself how much impact this sport has on my life, as a result the need of dividing and splitting my life between work and SUP passion has appeared. Now, I can't imagine that I could get back to the lifestyle based on work only, especially after my 1-year detox from workaholism and hard work on myself.
I have become a SUPGIRL since the moment of my first time standing on the SUP board. Nothing was important then. All worries disappeared immediately. It was here and now. Only me and the sea. Fear, madness, delight, fun. The effort put into paddling made physical tiredness but it seemed to me that every time I plunged the paddle into the water I sent away bad energy to the sea, and it gave me power, relief, purification in return.
I was wondering what brought such influence on my body and soul: beneficial effect of water; contact with nature; subconsciousness; maybe endorphins? I found the potential in this sport to calm myself down and restore the balance in my daily routine.
SUPGIRL is the state of mind.
SUPGIRL is state of soul.
SUPGIRL is freedom.
SUPGIRL is me.
The need is a major incentive to create new things. The idea of SUPGIRL logo was born early summer in a moment of increasing intensity of floating on SUP. The longer I SUP, the more desire I had to express myself. I was encouraged by the fact that surf clothes available on the market do not differ in style from those we buy for fitness. I came to the conclusion that the only way to emphasize my individuality and passion for this sport would be create it as my own. It happened. At first, I decided to design T-shirts and bags for my board accessories. I spent July 2017 on refining the graphic symbol and optimising the types of materials and shapes of T-shirts. I reached the first batch a month later on August 3rd,2017.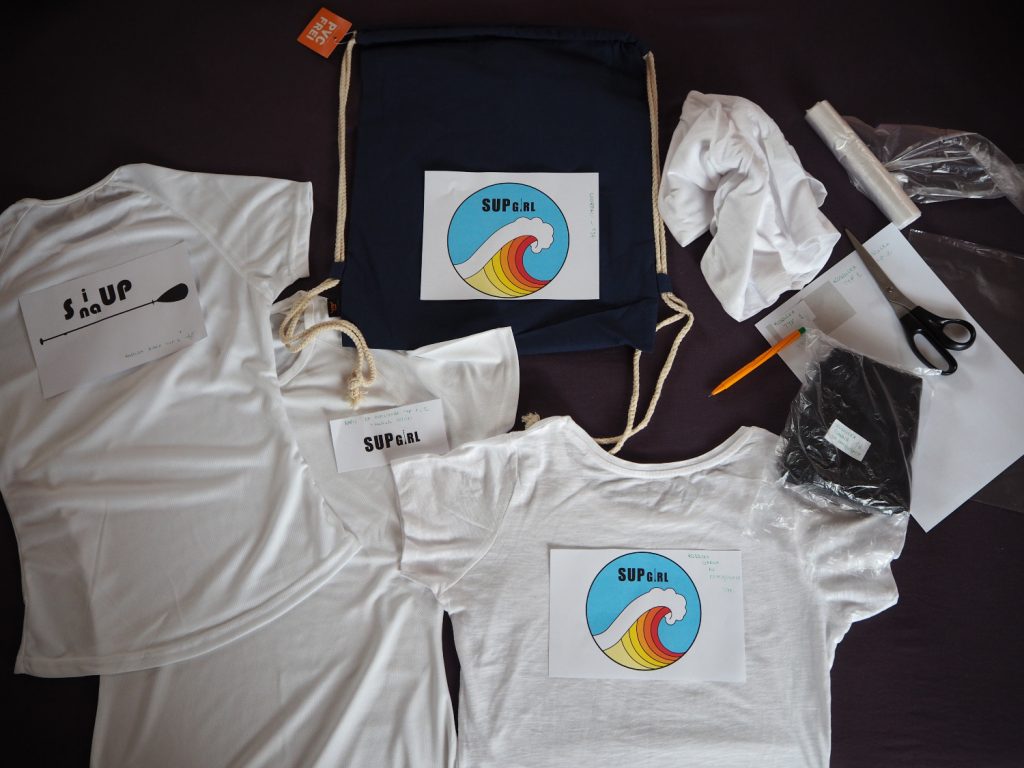 Nadia (the first SUPGIRL), my friend's 7 years old daughter and me tested the products.
I knew that if the gadget survived in hands of the child for at least 2 months, it would not only get a guarantee of quality and durability but also is worth investing in the further production.
I proudly wore my shirts with SUGIRL logo during summer, regardless the places, things I did. I liked their versatility. I could combine them with any other clothes in my closet. I replaced a ladies handbag with dark blue SUPGIRL bag where wallet, phone, keys and thousands of other things were more often put than SUP accessories. I was happy when my gadgets were admired. I liked every opportunity to chat about my ideas with other people. Probably the biggest satisfaction for me was to "see myself" cheerful, involved and wired up. This continues till today. Friends noticed my change too. I think they are happy seeing me smiling again.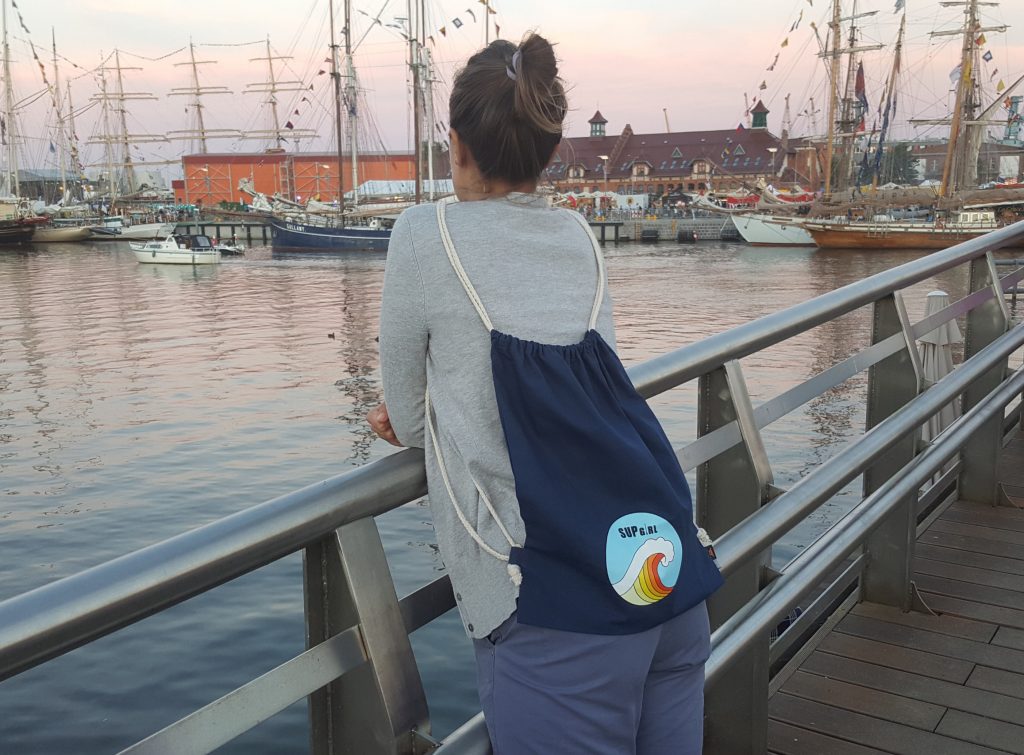 SUP supposed to be just a sport, one of many to help me to face the music of reality. However it became something more. This is passion, addiction and more.
SUP is the first thought after waking up. It is a desire to paddle every day.
If you think: "What a nice weather on board" during sunny morning. When you say: "Oh, I haven't floated here yet" every time you see lake while driving a car. When you shout: "This place is worth to SUP!" any time you find a pool/lake/river/sea/channels in movie you watch. All this mean that the passion of SUP absorbs you as much as me.
Some people practice yoga to find balance in life, some relieve stress by jogging, others throw away bad energy dancing. I found my own way. I think it is worth trying.
With this mind I would like to devote the following months to write posts on SUP. I set a goal to create a guide that will encourage you to do this so-cool-extra-super sport.
SUPGIRL invites you!