Floating on SUP is not the same as diving. Fallings into the water happen incidentally, the board rarely turns upside down. The luggage stays in the water for a short time in extreme situations. Nevertheless, having a waterproof (dry) bag is necessary to protect our belongings from both water and weather conditions (sun, rain, snow).
Orange, blue and yellow. I have my waterproof bags in such colours. As far as the preferences of colouring is an individual matter of each of us, the capacity and water resistance are the key parameters when choosing them.
Look at the most important information below.
CAPACITY
Think about what form of activity you want to do and what you would like to take with you on the board. This will allow you to define a bag's capacity (its size) properly to your needs. Check what luggage loading and fixing possibilities your board provides. Surfboards don't have a trunk so it is impossible to take your bag with you. Allround models have one in the front of it. But in touring, intended for long trips, you can find transport cords on the stern as well.
The choice is huge and starts from 2 liters to even 80 liters.
WOTERPROOF
Material and closing of the bag determines its tightness.
PVC is the material mostly used in production which is also resistant to sea water and UV rays.
The fastening system is typical solution used by the majority of manufacturers and consists of joining together two upper edges (tapes), then rolling them over together, fastening the buckle at the end. The number of wrappings is given by the manufacturer who guarantees water resistance of the bag.
FORM
Models available on the market are: bags, sacks and backpacks.
Comfort of wearing is important aspect as well and should be considered by fans of long trips and raftings where a risk of carrying equipment because of obstacles or between reservoirs may occur.
Bags with smaller capacities can be worn on the hip or held in the hand. Those above 5 liters are equipped with one or two shoulder straps
WHAT HAVE I?
To be honest I should write that I'm the owner of four SUP bags. Actually, I was just a month ago till the smallest one of 2 liters capacity was confiscated by Fabian. No wonder – he likes pink. I gave up avoiding an argument. Still it's a pity that I didn't have chance to use it. It was a new purchase in March from the Aquarius company at the Water Sports and Recreation Fair Wind and Water in Warsaw, intended for short, fast floating. I had to bear my loss because how to refuse flamingo? Doesn't he look sweet?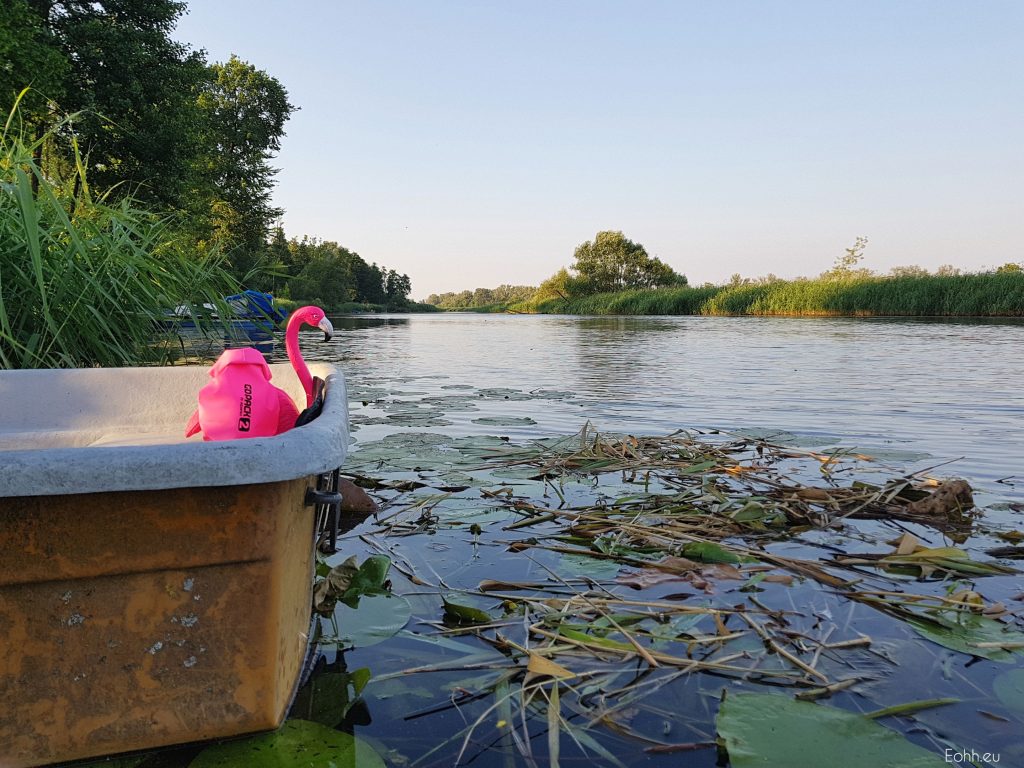 I have had an orange duffel bag from Itiwit for over a year. It still looks like new and serves well in spite of intensive use. Material doesn't fade although is exposed to frequent sun, contact with sea water and washing. Capacity of 5 liters is enough to contain a drink (maximum 0,5 liters), a candy bar, flip-flops, mobile, a set of keys, sunglasses and sunscreen. I appreciate side buckles thanks to which I can attach the bag to elastic cords of the trunk. I use it while floating on rough sea. This model, due to having only a handle, is designed to be carried in hand.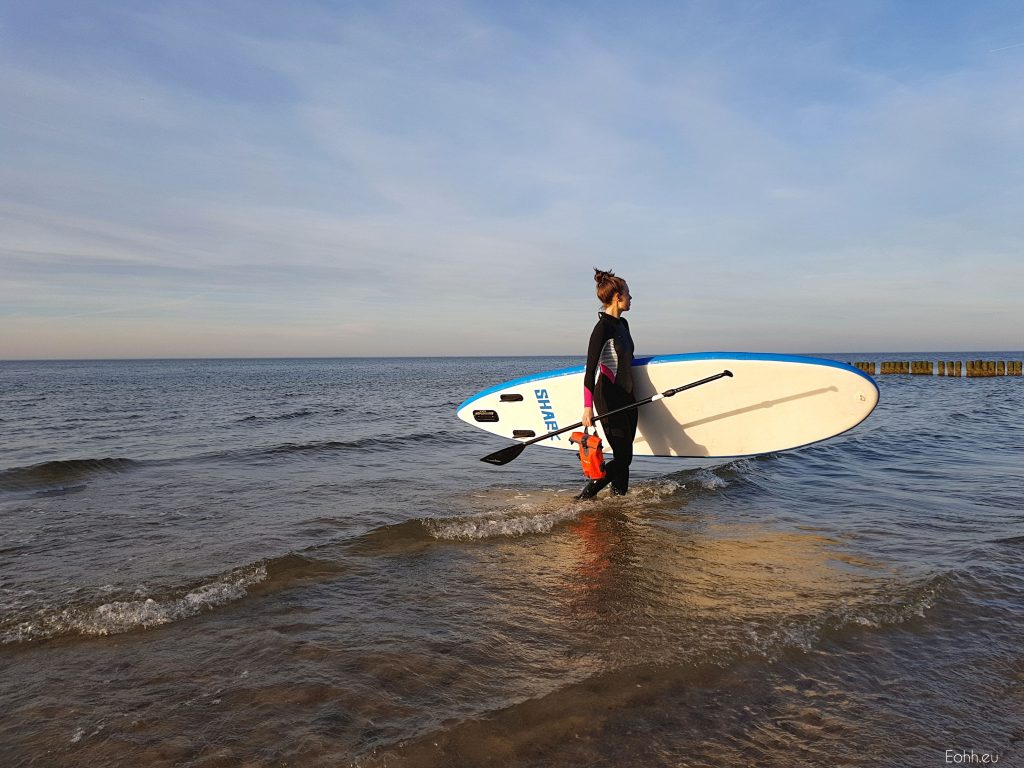 The blue 20-liter bag by Safe brand is the last year's purchase too. It's my support when floating off-season, when I need to take shoes, a towel, clothes for a change in case of accidental plunging into the water in addition to items mentioned above. It is really spacious. The PVC material is easy to clean. Only delicate scratches are visible on it. The bag is equipped with a disassembled, adjustable strap used to carry it on the shoulder.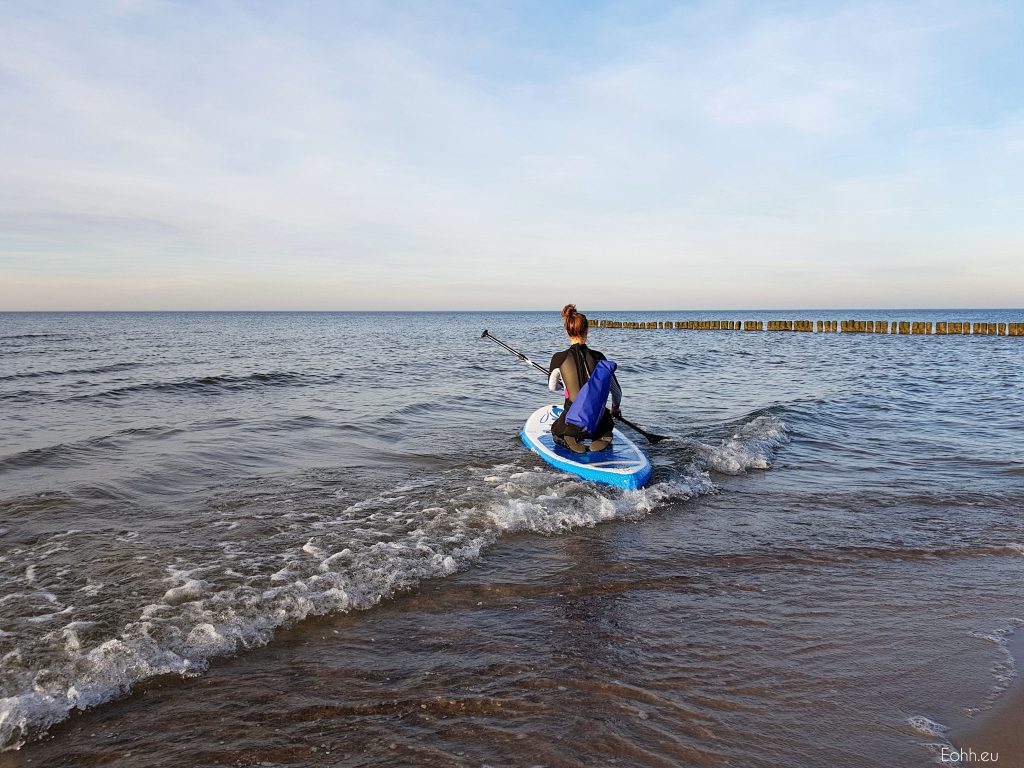 I found the yellow waterproof backpack from FLYN as the most extraordinary, girlish product available on the market. It noticed it during the winter sale on the brand's website. I was delighted when it was given to me as a present from a special person for me. I admit that I use it rarely. It looks so nice that it would be a pity to damage it. The fastening system is the same as in previous two models. However, it is the only one bag in my collection that has additional pockets. I like its flexibility. I can wear it cycling, during mountain trips or as an element of everyday use as well.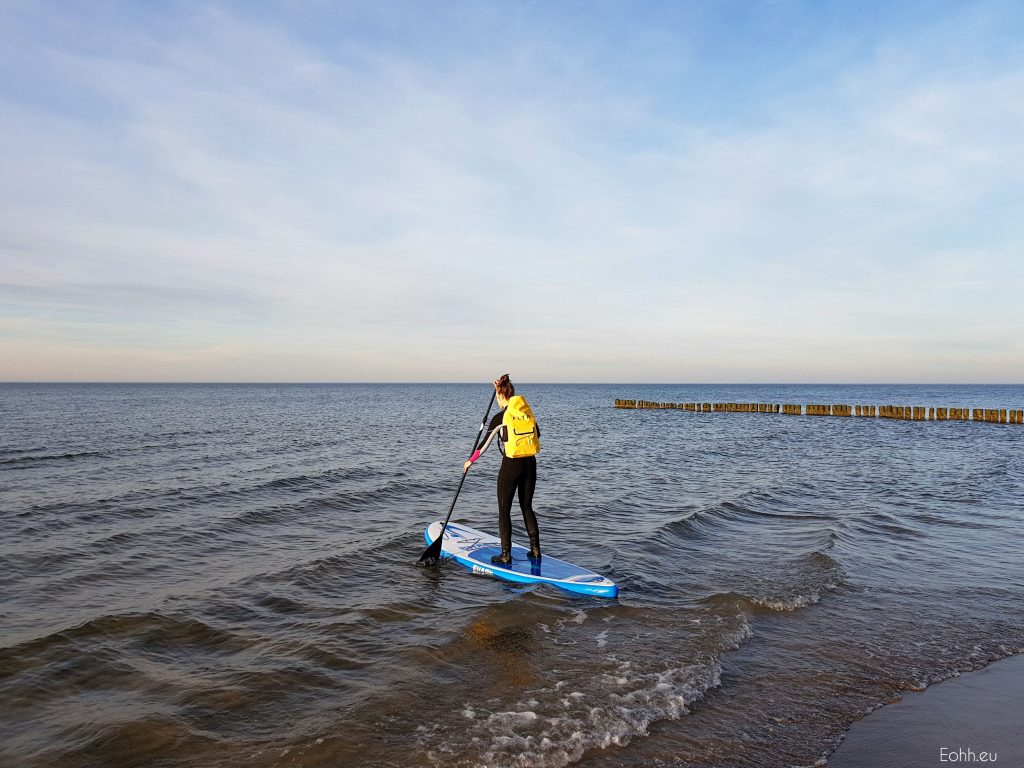 Such practical combinations I like the most.