Remorse come to me in the most unexpected moments. I was preparing myself to go on the Baltic being dressed in a new summer wetsuit and carrying a new surfing board in my hand when doubts mixed my thoughts not so long ago but during the long weekend in June when.
"What if surfing is only my whim? Maybe I spent money spree? If I hadn't bought Whip board another wetsuit wouldn't be needed?"
I calculated to myself the last SUP expenses realizing that I spent too much of my savings. On the other hand, I estimated the "profit" which got me shopping at lower prices and let me negotiate discounts that effected in keeping good mood and enjoying surfing.
Each hobby requires financial involvement.
While equipping myself with SUP gear was a one-off cost the purchase of outfits on the board stays open to me. This is because more needs appear with the passion involvement.
Although during the first two seasons I saved money floating in clothes and accessories which I usually do on the land sports (running, nordic walking, roller skating), the desire to launch the board for all year round forced me to invest in a neoprene wetsuit, gloves and hood in Autumn 2018. Then the fascination of surfing made me spend money on Roxy Prologue 2/2 mm summer wetsuit at the end of this year's Spring.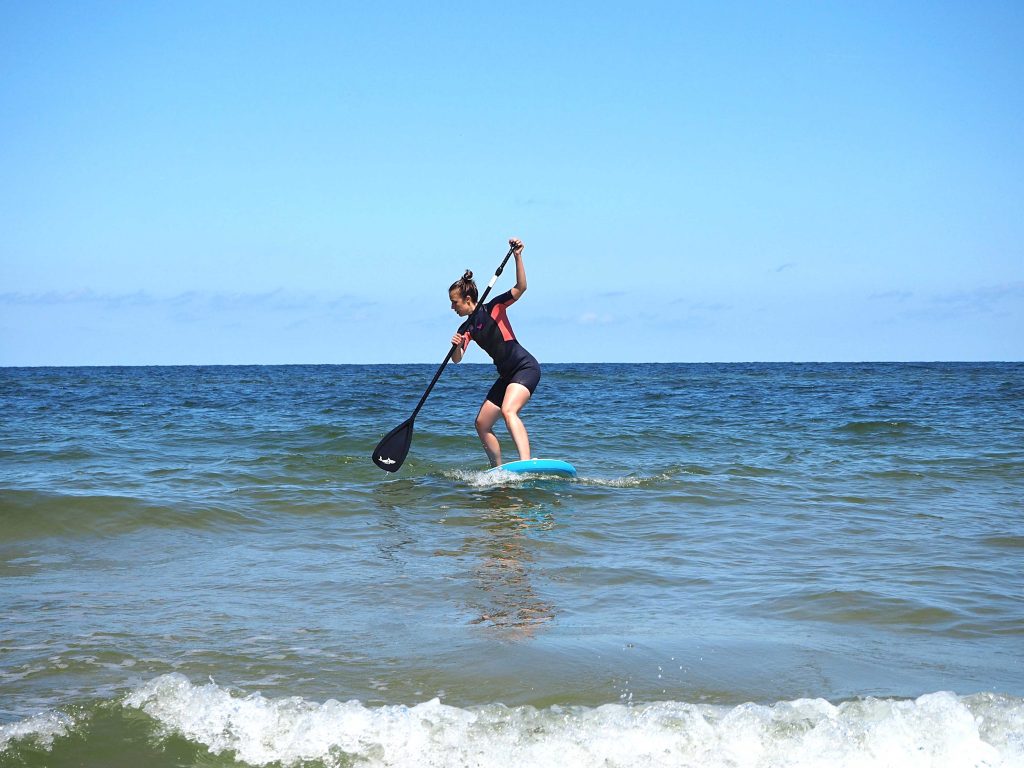 The wetsuit of Roxy brand is not the only expense for the SUP Season 2019.
What else fall into my hands…
Swimming costumes are the fastest worn out elements of my sports wardrobe. All year floating on the board and in results contact with salty water, sun and the need of washing often damage the materials causing loss of elasticity and fading of colours. For me a swimwear lasts for two years of intensive use.
The final sale of summer collection is a moment when I decide to buy a new costume. Discounts even up to 75% compensate limited choice. I can always find something for myself. This season I wear a floral black bikini from H&M. Is it possible to notice that the top and bottom are from different models? Exactly. I don't mind floating in outfits from last past year's collections as well. I put functionality and comfort above being trendy.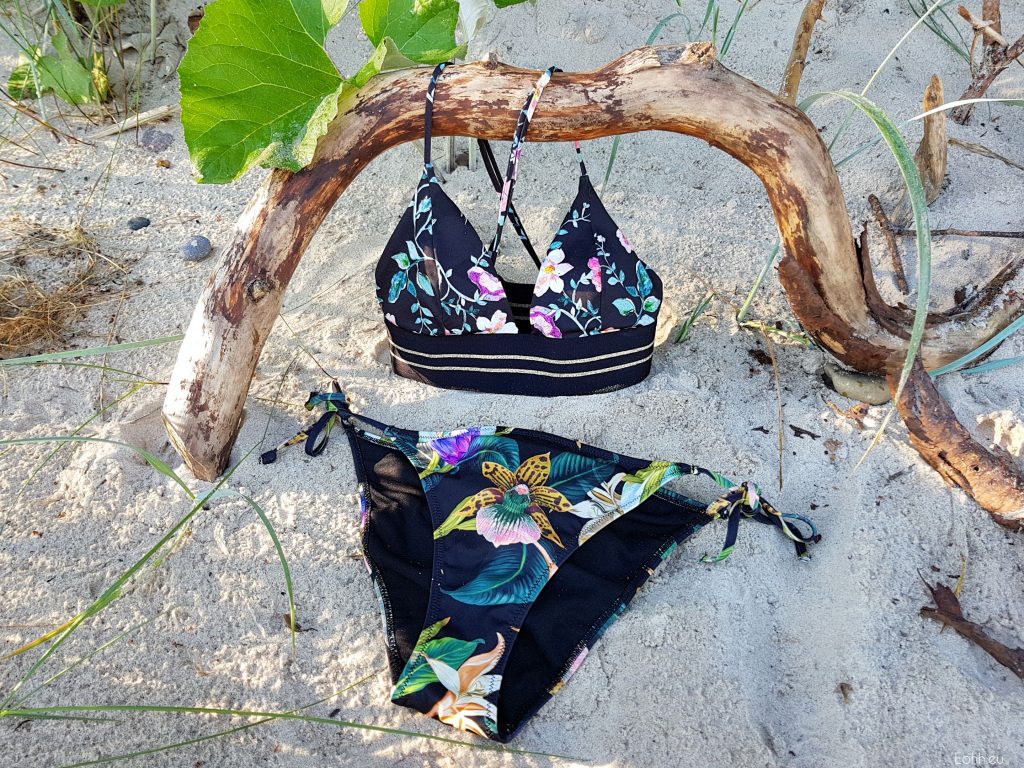 I was in doubts if narrow shoulder straps of the top will work during paddling. Thanks to possibility of their adjustment as well as use of wide elastic edge under the bust, the top fits well keeping its content in the right place.
Bikini means a summer look which I wear on allround type board to float on still water. I haven't dared to surf in a deep cut costume. I don't want wave to take off the lower part of my clothing when falling off from the deck of my board. I like risk to some extent. The briefs model works best in dynamic sea conditions so far.
I bought Roxy Fitness Crop Top accidentally in Sopot during the stay in Trójmiasto in April. Although I passed by the Store & More shop many times during the walks around Monciak (the famous pedestrian zone in Sopot), I had never been there. The Roxy's logo, set on the building's wall, intrigued me to come inside. Sports bras interested me the most. I chose a large cover top with the cool sign Sea you soon from three measured propositions. The regular price swept me off my legs. I wouldn't have bought it if not 50% off.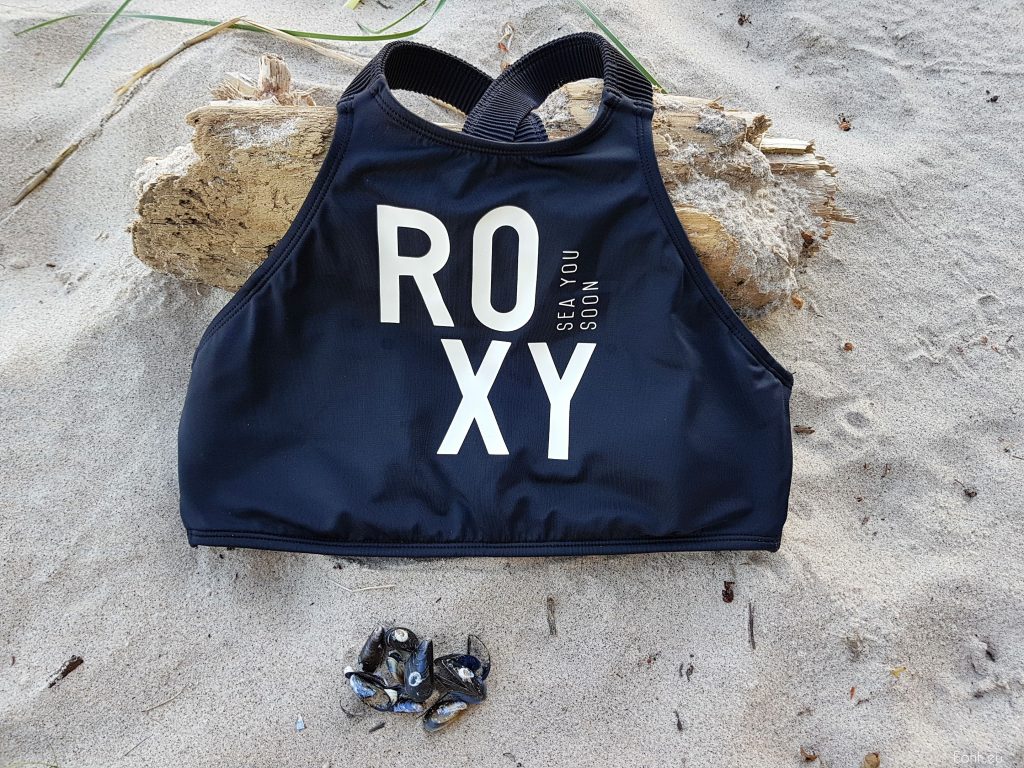 I'm very satisfied with my choice. I feel very comfortable in it also wearing it under the wetsuit. The cut and wide, elastic straps of the top provide high support during the movements. It keeps the bust perfectly during paddling as well as running or exercising.
I had been dreaming of flip-flops by Havaianas brand since I started floating on my SUP board. I felt like I won the lottery ticket when I saw (in the same shop) a basket with discounted footwear of this company. My happiness didn't last long because the beige espadrilles were what was left of my size. And because they cost pennies I bought them as an alternative to flip-flops. Picture of this shoes below.
I chose cotton dress with laces tied on the neck ROXY Miss California because of the need of having loose clothes letting me change quickly and smoothly before or after floating and using little space in my bag. The lack of light and airy dresses in my wardrobe was another argument for the purchase as well as the price reduction of almost 180 PLN. To my surprise Roxy dress can be worn as a skirt. Trendy T-shirt and the espadrilles from Havaianas perfectly suit to the urban outfit for coffee meetings with friends.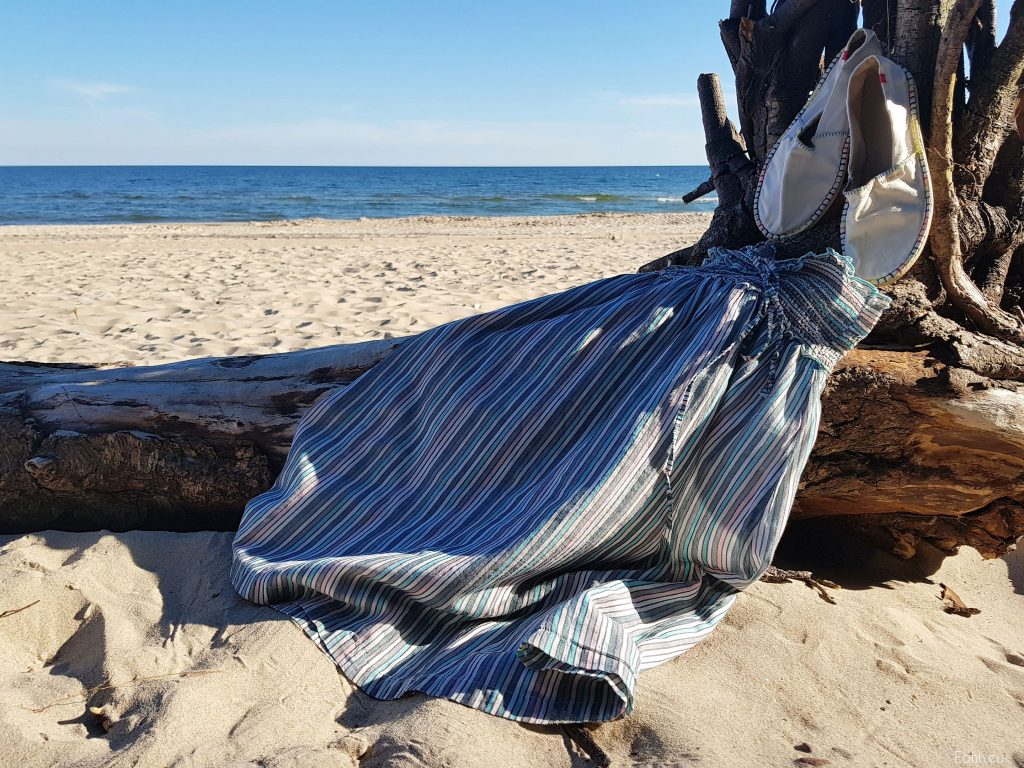 My extremely fast catching tan – it is the beginning of Summer and I have already been called Chocolate at my office – and the first sunburn this year sped up the decision to buy Day Drift Floral long-sleeved shirt by Billabong. The material is light, delicate and stretchable. It provides freedom of movement. It dries quickly. It is a protective shield for my skin against UV rays and wind. It is suitable for floating on the board in hot and cool days. What is more, the shirt can be a warming layer being worn under the wetsuit. I will definitely use it during off-season.
I bought shorts to complete.
Most often I put on is the Billabong Day Drift set. I love its floral pattern.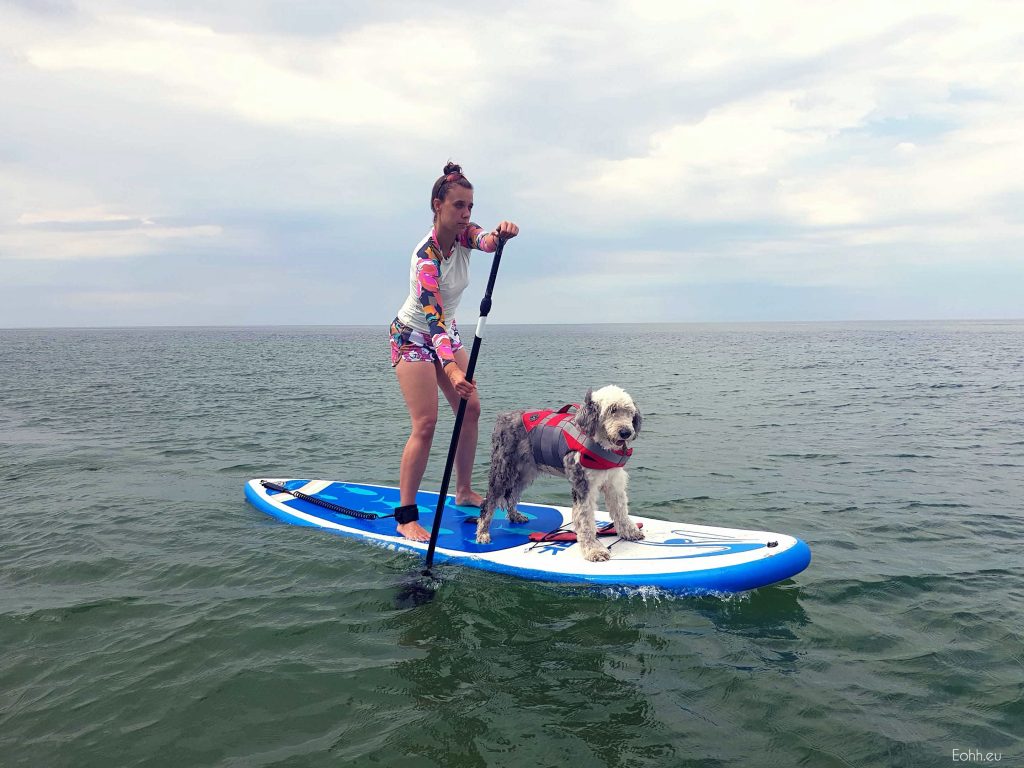 That is all of my shopping madness. I think it was worth straining the home budget, thanks to which there is a large collection of beachwear in my wardrobe, which I can not only use for other activities but also combine with every day stylizations. I will see if I'm prepared for every situation and weather conditions.
I hope that my shopping of good brands will allow me to enjoy clothes for longer.
Professional sunglasses and gloves for summer have remained on my SUP needs list. Unless I will finally find the cycling ones which I have been using to float on SHARK from the very beginning. It certainly would be a desirable saving.
More shopping? Not so soon, till next year.