All engineers should devote 2 days in November or December – as this year edition – to participate in conference "Geoingineering in civilengineering".
Noted in calendar at the beginning of a year it used to be the mandatory destination for me as a designer to which me and my boss set the schedule of work as well as private life.
The beginning of November was always reserved for the trip to the south of Poland regardless of the multitude of duties and problems in the company.
The conference has been organized since 2011, by Wydawnictwo Inżynieria Sp. Z o.o. [Ltd].
This is an event brings together in one place scientists, designers, executives, suppliers but also investors and lawyers.
The subject of conference is broadly defined geotechnics both land and hydro engineering dealing with issues related to soil mechanics, foundation, tunneling, slope and embankment stability.
Conferences used to take place in Hotel Sarmata in Sandomierz at the beginning. Guests were invited to Hotel Swing in Krakow for 3 consecutive years. This year meeting has been set at the Hotel Best Western Premier in Krakow.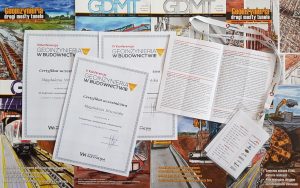 Now, the VII edition is in progress. It is the first one I'm not present there in person. I do really regret because I know how participation in such events is necessary in broadening the professional knowledge. Especially valuable are discussion panels which allow theory to be confronted with the reality and engineering practice. Moreover, an exposition presenting companies active on the construction sector allows participants to get to know technological news, offers and exchange of experience during the conference.
The subject of this year's edition is underground floors in urban development in terms of geotechnical dimensioning, design and execution. The topic of monitoring and control of the object during phases of execution and use will be discussed as every year.
All issues will be supported with the most interesting projects of recent years.
An evening gala, with the TYTAN awards, has been the regular part of the conference. This is an unforgettable event allowing participants to catch a breathe, relax and have fun before another day of the session. It was my favorite moment to prepare myself for the evening celebration. I was happy to change the sportswear, bland designer's outfit for chic dress and high heels to emphasize my femininity and feel like a lady in man's world that one evening.
I do strongly recommend conferences "Geoengineering in civilengineering" regardless of who you are, whom you represent, in which branch you work. It is an event that will surely satisfy the thirst for knowledge of every engineer and brings new experience into your professional life.
All information is available on the website: http://konferencje.inzynieria.com/geoinzynieria/