It is the high time to admit myself that this is the end … the end of SUP season. Today is 22nd
of November. It is probably the right time to give up hope of floating in sunny and warm days
and to become reasonable in this madness: no SUP in autumn or winter without wet suit.
It seemed rational to me to float in a thermal blouse, long sports leggings and wet suit booties.
Being a conscious surfer I always take into account the risk of falling into the water, that is why
I have a bag with warm clothes and a thermos full of hot tea with me on every trip.
Being a bit crazy I managed to SUP in October and November. Determination!? I impressed myself being able to do this sport at this time of the year although I am warm -blooded person who needs minimum 20 °C to exist.
No one and nothing is able to cool down my enthusiasm.
I decided to return to the places discovered last summer. The longer I SUP, the more beautiful places I discovered again. I was surprised every time by the silence, allowing me to listen to the nature. I could hear the sound of trees, watching wild geese preparing themselves for departure to warm countries. Even fish stopped hiding in depth, becoming my only companions. I was happy to paddle to the middle of the lake to drift without disturbing the sound of nature. The leaves were trembling with intense colors and it was a spectacular view seeing their reflection in the water as in a mirror. I had a feeling being on the verge of reality, as if floating into another dimension.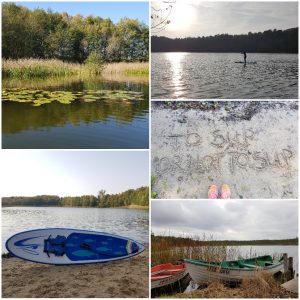 I needed long time to decide which season was the best to SUP.
The contact with water was easier in summer. There was no problem for me to get into the water.
A swimming suit dried on my body out immediately. I think it is the only one advantage. All right, let's add flowers abundant in colors. The lush and fresh life was green and immediately noticeable. Water lilies were beautiful spots on the lake surface. Unfortunately, it was hard to enjoy the beauty due to the crowded beaches and noisy children splashing the water. It was almost the miracle to find a parking place as well as a piece of the beach to pump up the SUP board. It was pity for me seeing devastation and contamination of bathing area.
I felt as pure nature came back in October after disturbances during summer. The water cleared up. The vegetation became alive again. Every part of the lake emanated with calmness and good energy. It was beautiful, definitely better than during summer.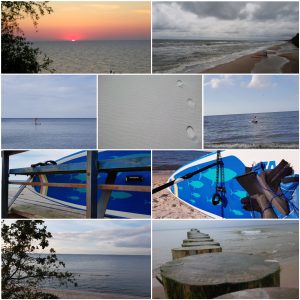 Oh no! I started dreaming again! How will I survive without floating on SUP board?
The only thing what I may do now is to clean my equipment and prepare for the next season.
Keeping fit and collecting money on wet suit it is what is left for me.
And looking for the spring to come.