Due to my great pleasure having when writing last year's post Always and everywhere beautiful, I decided to devote a place on my blog to the subject of the body care this year also.
I started preparation quite early in November 2018 completing cosmetics for 'EVERYDAY' and 'ON THE SUP BOARD' sets. The search for interesting for me products took place not only in Szczecin but also Warsaw. The beauty store JEJU was a place where I bought most products to prepare, protect and regenerate my skin for the Summer with frequent exposure to the sun, wind and contact with salt water.
Being happy with the fact of having December for cosmetics testing, I didn't anticipate one – the pre-Christmas invasion of my friends. Then it started: "Where did you get so cool body cream?", "Can I check how it smells?", "Would you present me with this scrub?", "Give me one mask, after all you have two. Please, please, please!"
!!! OMG !!!
This female armageddon cost me a lot of nerves, and worst of all it depleted the 'EVERYDAY' set in 70 %. My lack of assertiveness led me to the starting point. I had to rebuild the kit of goods taken away from me.
Instead of placing an order on – line, I preferred to wait for a trip to Warsaw for the Water Sports and Recreation Fair Wind and Water at the end of February 2019 to do shopping at JEJU personally and satisfy my curiosity how the beauty store looks like after changing location to Oleandrów Street.
So thanks to Ms. Marta's commitment we recreated the daily care set for the SUP Season 2019.
'EVERYDAY' BODY CARE SET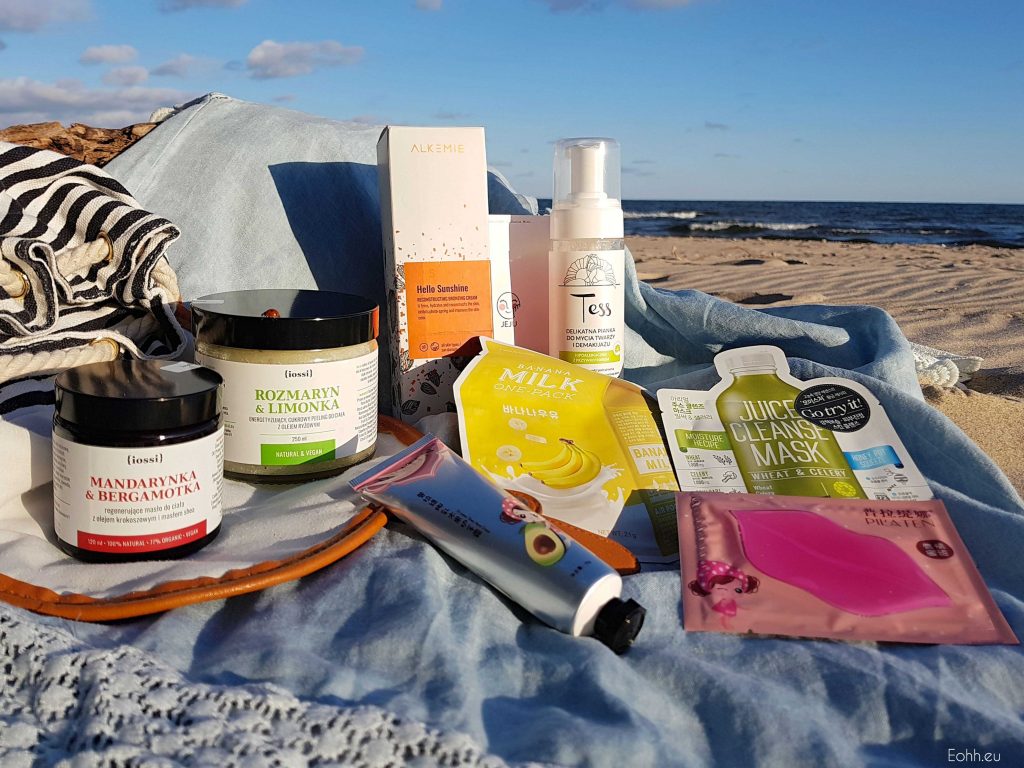 body scrub rosemary & lime – IOSSI
shea body butter tangerine & bergamot – IOSSI
moisturizing hand cream – PIL'ATEN
foaming face wash and makeup remover – TESS
reconstructing cream Hello Sunshine – ALKEMIE
juice cleanse mask wheat & celery – ARIUL
banana milk face mask – A'PIEU
collagen lip mask – PIL'ATEN
Ms. Marta suggested me Polish brand cosmetics IOSSI as those which suited my needs best. I chose an organic shea butter and vegetable oils, rich in vitamin E nourishing, regenerating and even firming. I wanted ingredients also to soothe my skin, allay sun burn caused by frequent exposure.
I trusted the brand.
Sugar body scrub with rosemary and lime scent and body butter mandarin and bergamot gained my acceptation after the first application. I'm impressed not only by long skin moisturizing effect but also by it's smoothness. I prefer to apply them in the evening since both products leave an oily film on the body. The addition of epson salt makes me use the scrub carefully in the area of damaged skin.
The fragrances of cosmetics are amazing. They last on the skin for a long time. This year I put on unusual combinations including citrus notes which really refresh and energize body and senses.
Effects satisfy me. Having right product is enough to find a pleasure in an evening care rituals. It has been hard to kick me off the bathroom for the last two months. The IOSSI is my brand discovery of 2019. I know it will stay with me for longer. I'm grateful that I finally can buy cosmetics in an eco – friendly, glass packaging. Thank you!
I included moisturizing hand cream with shea butter of PIL'ATEN brand to this year's care set due to it's nourishing properties. It is ideal for dry, sensitive skin. It moisturizes and relieves perfectly my hands after intense floating on my SUP board. The cream absorbs fast without leaving an oily layer. This is the cosmetic I use rather before bedtime.
Foam is the only form of face cleansing cosmetic that my skin tolerates. I tried gels, toners. Unfortunately, even those moisturizers provoked the effect of tension skin and – which I hate – the feeling of stickiness. Therefore, I have been using two different products continually for eight years: IWOSTIN HYDRO Sensitia and Pharmaceris Puri – Sensilium facial foams for dry, sensitive and allergy – prone skin. Although these products meet my expectations in 100 % I wanted to change something in this treatment. Following Ms. Marta's suggestion, I decided to try delicate face cleansing foam and make – up remover of the Polish brand TESS. It was a hit. I'm very pleased because it goes equal well with my dermocosmetics. Surprisingly, as it costs less than 20 PLN.
Hello Sunshine reconstructing bronzing cream made by ALKEMIE is for me the most demanding cosmetic of this year EVERYDAY care set. Why? I perceive the word bronzing negative because with self tanning products, and the accurate way of application is difficult for me. I admit I'm still skeptical. On the one hand, I'm afraid to use it, on the other I'm interested how it acts. It is a vegan face cream for skin exposed to sunrays, liable to photo – aging. So I deal with a professional product not only regenerating dehydrated skin but also improving it's colour, eliminating discolouration. Before I bought the cosmetic, Ms. Marta gave me some samples. My doubts didn't occur after cream application, and my skin was soft, covered with velvety texture. I liked the sweet aroma as well.
So far, I'm pulling myself mentally to use Hello Sunshine. I leave the packaging every day standing on a shelf. I will wait with the use till the end of the month. Then I see what will happen.
I can't imagine face skin care without sheet masks. I have been buying them for a year and I find it the easiest and fastest treatment for better skin condition. I usually choose those moisturizing to strengthen the effect of creams and to speed up the process of restoring skin's natural barrier. I use them at least twice a month. I usually put them in the evening or after floating on the board when my skin is tired, dehydrated and irritated. Masks quickly bring relief, skin stays smooth for a long time.
This season I put on vegetable and fruit masks: cleansing – moisturizing with wheat and celery extracts by ARIUL brand and brightening – nourishing milk banana cocktail of A'PIEU brand. The sheets of both masks are made of corn fibers, thanks to which they cover tightly to the face, ensuring effective penetration of active care ingredients into the skin. And they are fully biodegradable.
Nothing irritates me more like chapped lips. The problem increases during Summer when I respond with a reflex of pinching and touching my lips, making them worse. In addition to hydrating creams, I support myself with masks on the lips with plant collagen from PIL'ATEN which exfoliate the epidermis effectively. It takes 15 minutes to nourish and get skin glow.
It is a must have cosmetic. It will be appreciated by every girl who uses lipstick or lip gloss on a daily basis. I buy it in large quantity, just in case of my friends unexpected visit.
'ON SUP BOARD' BODY CARE SET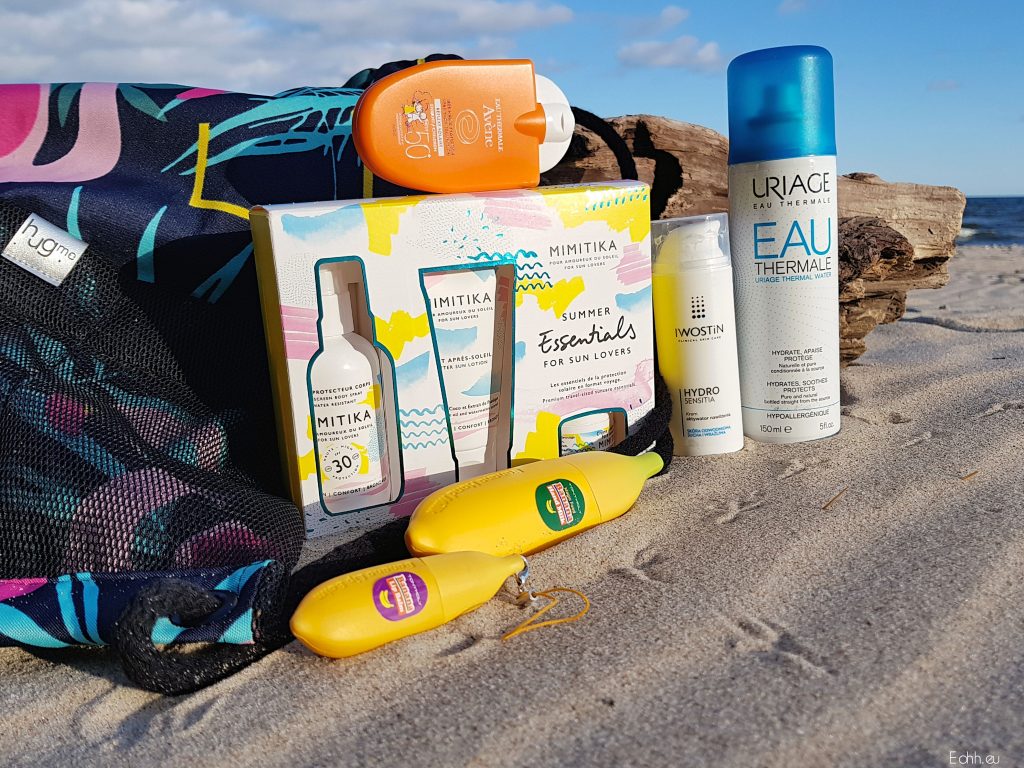 sunscreens for kids SPF 50+ – Avène
kit Summer Essentials – MIMITIKA
moisturizing activator cream – IWOSTIN
banana lip balm – TONYMOLY
banana hand milk – TONYMOLY
Sun cream is a necessary cosmetic in this set. This season I put on French brands Avène and MIMITIKA.
I have been using Avène sunscreens products for a long time and I appreciate them for light consistency, fast absorption and waterproofness. The regular prices of cosmetics are quite high, that is why I look forward to the promotion in Autumn. At the beginning of the year I managed to catch sunbathing formula for children with SPF 50+ filter with a 70 % discount. The size of the package is ideal for a tourist's toilet bag and the shape allows efficient cream application during floating on the board.
I got to know the MIMITIKA brand five months ago. My attention was drawn to summer sun kits in travel formats, consisting of three vegan protective cosmetics, proper for all variety of skin types. Capacities of packaging and price – reduced by 50 % – accelerated my decision to buy. And so I became the owner of Summer Essentials kit containing: face sunscreen SPF 50, sunscreen body spray SPF 30, after sun lotion.
Face cream, in contrast to the other two products, has a thick consistency. Nevertheless, it spreads well and absorbs fast. It moisturizes skin for a long time. The fragrance is what I can't avoid in the sun protection products. Fortunately, in MIMITIKA cosmetics it is very delicate and fleeting. I can't wait Summer to test them at the top of the season.
While I don't mind intense fragrance in body lotions, I keep to fragrance – free face creams. The products from the blue series of IWOSTIN brand have been filling my toilet bag for eight years. I always have at hand: cleansing face foam, daily moisturizing cream with SPF and necessarily regenerating night cream with richer composition.
IWOSTIN Hydro Sensitia Moisturizing Activation Cream has premiere in the SUP Season 2019. I use it after floating, after cleaning and refreshing face skin with thermal water, for example: Uriage. The cream has a light consistency, so it easy spreads and absorbs fast. It eliminates immediately the feeling of dryness bringing relief. It is very efficient. What is important, it doesn't leave a sticky film on the skin.
I appreciated the practical aspect too. I take the toilet bag on my board or hide it in a bag with other items for SUP, which makes impossible to avoid covering with sand. As a consequence, gear and cosmetics require cleaning after floating. That is why the packaging with the pump are the easiest to keep clean, without risk of losing 'sterility' of contents.
Banana lip balm and banana hand milk of TONYMOLY are my presents from my friend for the last year's birthday. I decided to use them for the SUP Season 2019. So far, I haven't found a gloss that my lips would accept so well. Both products deal with dry skin efficiently, ensuring long – lasting hydration. What is more, this banana scent and fantastic packaging design. I love them.
Creating care kits is nothing complicated matter. It is enough to be patient and self – determined in searching for suitable cosmetics. Devoting a little attention to your body and putting a minimum effort in preparing your skin for the Summer, you will avoid problems that may exclude you from practising sports for weeks.
Sun burns, pain, itching? Seriously? Isn't it better to take care of your skin to enjoy floating on SUP?
I'm waiting for your opinions. Share your experience how you prepare your body for the SUP season with me. What are your favorite cosmetics.
I would like to try them, too.