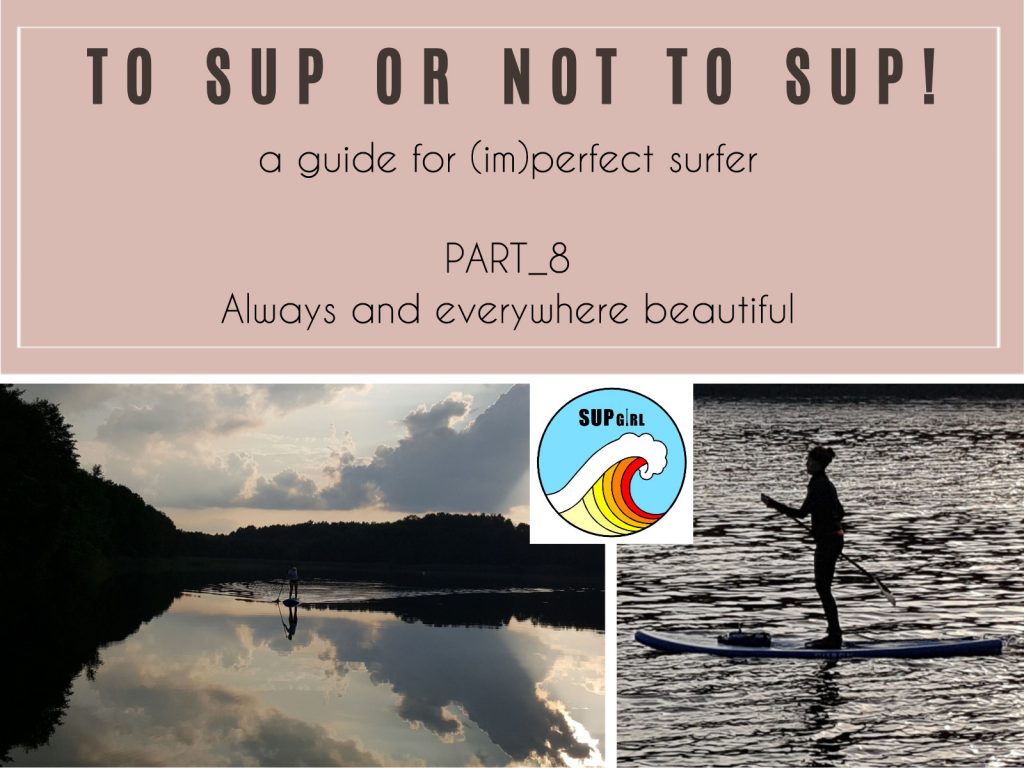 Before going SUP it happens from time to time to look at myself in a mirror to check if my outfit covers my 3 kg overweight which has been a souvenir from the unemployment time. While staring at my face I catch a few wrinkles, reminding me a consultant in the pharmacy when giving me samples of face cream 30+ and 35+ with a tentative movement. Coming to terms with the fact that I won't be younger anymore, I go out believing that floating on my SHARK will take years off me better than all creams together in the whole world.
I don't remember that I have ever shown interest in cosmetics. I used to treat doing make up as a vanity and piss in the wind. I put on the natural look, keeping in mind my grandma's advice not to destroy my skin with make up, which I set on in man – woman relation as the worst version of myself as a man can ever see.
Neither at high school, nor at the university I wore a war paint. Even nowadays, being a working woman, I can't imagine myself doing it as everyday routine before going to work. Especially it is pointless to me to pamper myself before going to SUP.
I can speak for hours if the conversation is about sheet pile walls, quay constructions, slope stability but I keep my mouth shut when it comes to fashion – beauty.
I have done small progress since last year. I didn't care about the need skin preparation for regular exposition to the sun, wind and salty water, so as a consequence it led to dewatering and making my skin dry. My carefree attitude finished not only visiting a dermatologist or cosmetologist but also 3 – month treatment of skin irritation and regeneration therapy.
Being taught by experience I promised myself to approach to the aspect of the body skin care in SUP season more seriously, which in result paid off creating conditioning 'EVERYDAY' and 'ON THE SUP BOARD' sets containing cosmetics dedicated to hydrate and nourish my skin.
I could have provided myself with upmarket natural cosmetics, included those made in Korea which I wanted to try for a long time, thanks to the support of my favorite sponsor – my dad.
'EVERYDAY' BODY CARE SET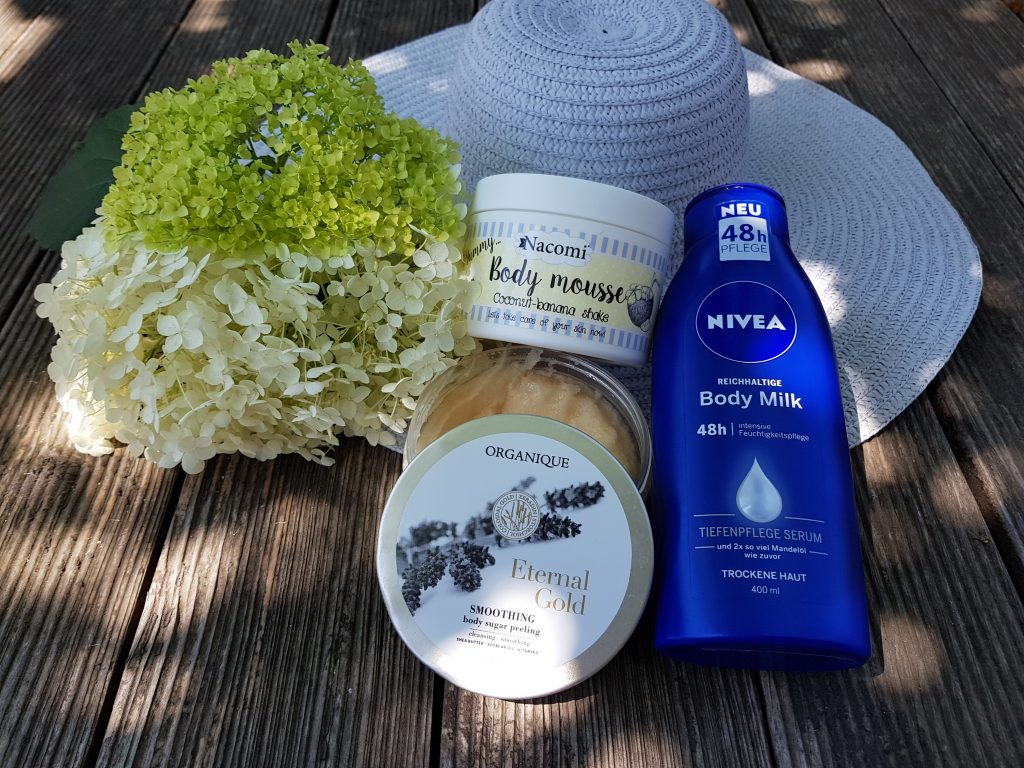 body sugar peeling – Organique
body milk – Nivea
body mousse – Nacomi
I can't do without two products in my EVERYDAY skin care to which I keep up to a very long time: the smoothing body sugar peeling Organique and the body milk Nivea.
The body mousse being produced by Polish company Nacomi has become the discovery of the year for me. I dig it for the form, consistency that changes from a delicate foam into smooth oil under the influence of heat. And the exotic coco – banana aroma match perfectly to summer trends.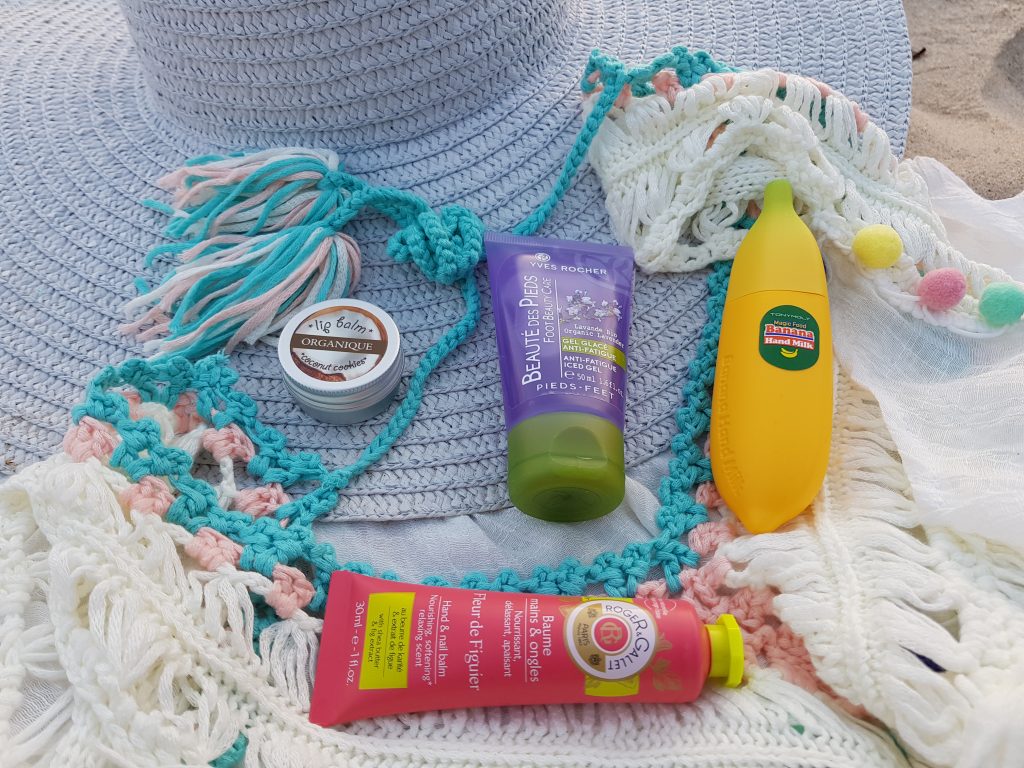 lip balm – Organique
hand cream – ROGER&GALLET
hand milk – TONYMOLY
feet iced gel – YVES ROCHER
My two favorite hand creams: French ROGER&GALLET, Korean TONYMOLY are to find in my vanity case next to the lip balm Organique coconut cookies fragrance. They are ideal for my needs: have a proper consistency, absorb quickly, moisturize well. I regenerate my feet with the anti – fatigue iced gel brand of YVES ROCHER. Peppermint essential oil soothes on the hot days and organic lavender essential oil gives relaxation. What a cool, practical combination.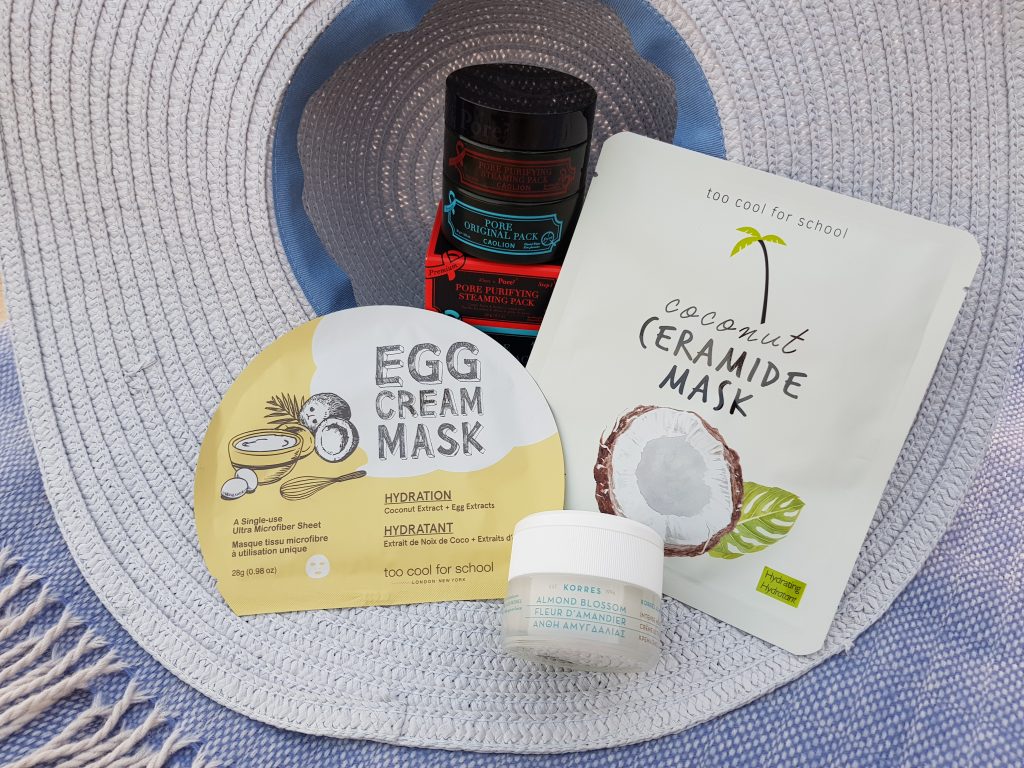 Premium Hot&Cool Pore Pack Duo mask – CAOLION
face cream – KORRES
face mask – too cool for school
face mask – too cool for school
I wanted the set cleansing and moisturizing cosmetics to care on my face. Fulfilling both requirements is hard to find. Being encouraged by a favorable opinion found in the women's magazine Twój Styl I gave a try to buy CAOLION Premium Hot & Cool Pore Pack Duo. It was worth buying it. I was trying cheaper activated carbon masks – oppose to CAOLION'S product – but they didn't manage to cleanse skin pore in the most problematic places on my face – chin and nose. I was surprised by creative, practical packaging consisting two parts: the upper one with Hot Pore Cleansing mask content to be applied first and the bottom one with Cool Pore Tightening mask to be used in the next stage. You had better not show yourself to your man wearing such combination. You are scaring dark-grey face at the beginning, which colour is responsible by the ingredients of the mask: charcoal powder and volcanic ash. Then you make yourself uglier with the bright – grey paste containing glacial soil, volcanic ash. I don't know if a man can stand the view of her woman who looks as if she had fallen in mud. Remember not to scrub your face before the use of this cosmetic because the cleansing mask (stage I) contains in its composition particles which effectively exfoliate dead skin cells after 2-minute massage since applying. Avoid covering the mask closing the pores (stage II) around the eyes. The addition of menthol cools effectively and brings relief to the skin but it causes eyes irritation. Avoid moving after the mask application. It is best to sit comfortably for 15 minutes not to increase the cooling effect.
I require my face cream to be fragrance – free and not to leave a sticky film on skin. I was sceptical to the intense moisturizing and nourishing day cream with almond blossom extract produced by KORRES. Perhaps delicate smell or the cost prejudiced me against this product? I invested in the cream with price over 100 PLN for the first time. I have been using it since April and I like it a lot. It has a delicate, creamy consistency and is easy to spread on the surface. The skin is smooth, nourished, moisturized for a long time. What more do you want?
I put a sheet mask once a month as an additional support to hydrate my skin and maintain the hydration level constant. I am a fan of this type of solutions. The simpler is usually better. The choice always falls on those from the company too cool for school. Coconut water, the base of the masks, soothes skin irritation and brings relief after all day long exposure to the sun. And this fantastic packaging design. You can't pass by indifferently.
'ON SUP BOARD' BODY CARE SET

The vanity case 'ON SUP BOARD' is not as rich in beauty products as that one for 'EVERYDAY' care. Nevertheless, the protective, regenerative and moisturizing properties are at the same level. I bought products with smaller capacity on purpose to save space in my backpack. I take them on the SUP board both for short trips as well as a few days escapades for surfing.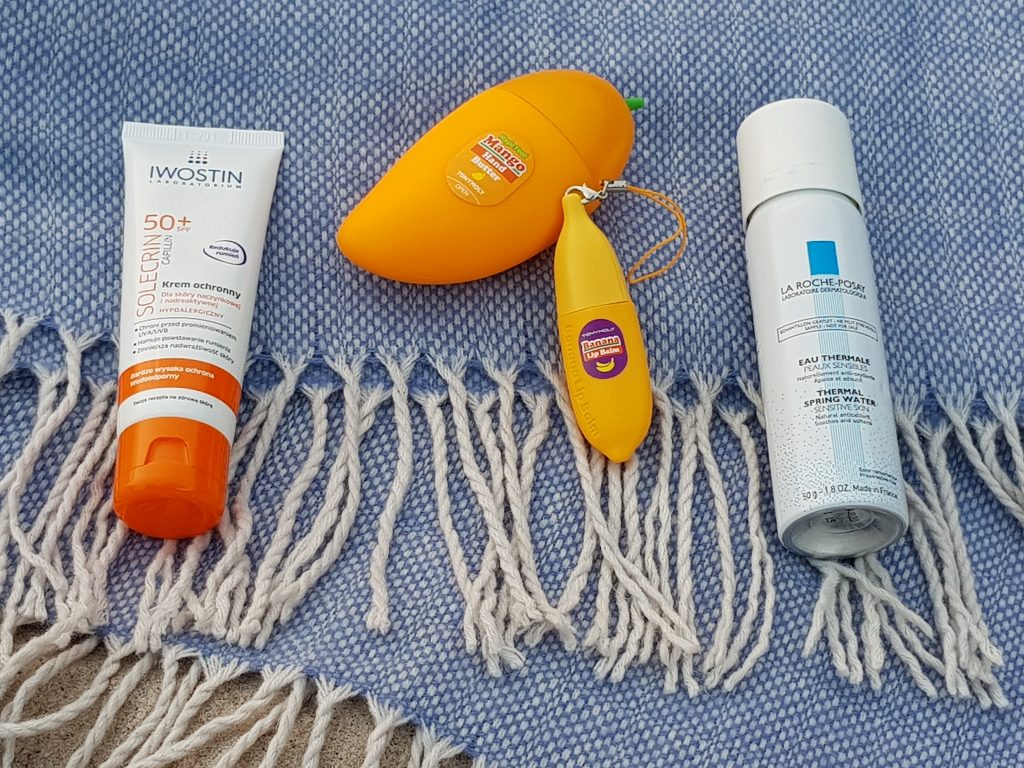 suncare cream SPF 50+ – IWOSTIN
thermal water – LA ROCHE-POSAY
mango hand butter – TONYMOLY
banana lip balm – TONYMOLY
The basic cosmetic, which I don't move without on the board, is a suncare cream with minimum SPF 30+ protection.
I use products of French brands Avene, LA ROCHE-POSAY and Polish IWOSTIN interchangeably. Available in pharmacies. I bought IWOSTIN SOLECRIN CAPILLIN SPF 50+ on SUP season 2018. I like it because it is without scent. The cream is dense, provides long hydration, stays on the skin for a long time. It doesn't leave a sticky skin feeling after application. It is waterproof so it provides effective and long – lasting protection which is important when practicing water sports.
Thermal water LA ROCHE-POSAY Eau Thermale is another necessary product for me, which I reach for when I want to refresh my skin and what is the most important to remove the salt from the face – which is a side effect after SUP-ing on the sea. Moreover, it moisturizes, soothes skin irritation caused by the sun. It is reasonable to buy such spray.
What is the Summer without fruits? The more I am pleased when I can enjoy their fragrance on my skin. TONYMOLY is the tops company in bringing the fragrance into the reality. I admit the purchase of the last 2 products 'ON THE SUP BOARD' set was chosen by … how to say … girl's intuition? The Magic Food Mango Hand Butter and the Dalcom Banana Pong-Dang Lip Balm charmed me with fruit – shaped packaging – creative, practical and convenient. I couldn't resist. Their content also surprised me. Both products have a creamy, delicate consistency. They are quickly absorbed and are not greasy. My skin tired with sunrays, wind and water is well nourished after the cream use. Mango hand butter brings relief to hands tired of paddling. Since the moment I started to use the banana lip – balm, my mouth has stopped burning and bursting. Do I have to mention about the smell? If I, hypnotized by smell, have had the desire to lick my hand to see if the cream actually tastes like mango, it means that you are dealing with a really great product. After the 'organoleptic test' of cosmetics, I knew that I would not leave the store without them. They are fantastic.
My ladies, the topic has come to the end. Finishing today's post I may advise you to relay on natural cosmetics. Pick those consisting several components. The rule: less is more, matches ideally when choosing the perfect product for yourself. Are not you sure of buying? Ask for samples. It is also a good, ergonomic form of cosmetic packaging to be taken on the SUP board.