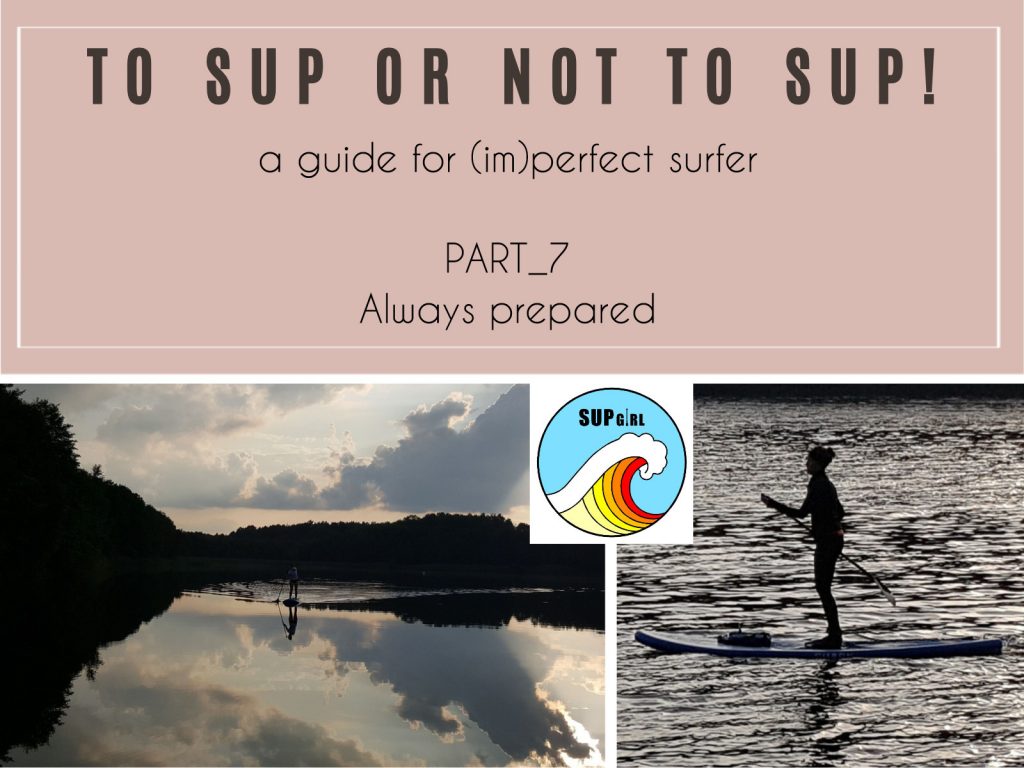 A mobile, car keys, suncream, drinks, tissues. If we put something warm to wear, a towel, flip-flops more, it makes our gear on a SUP board quite big.
Continuing the series 'found in the closet' I would like to share with you how to use on the SUP board some stuff you already have and use practicing various sports or are forgotten in your wardrobe. This time the focus is accessories.
I hope that I don't commit faux pas using 'cloth recycling' instead of promoting super extra new wear dedicated for SUP. My doubts have appeared after publishing the post 'What to put on'. My friend I asked for advice resolved my objections. She approved my view that the lack of a professional outfit shouldn't be an obstacle or an excuse in developing any passion. She appreciated the practical approach to the subject and shared the opinion that it is first worth carrying out an inventory the content of the wardrobe and complete sets universal enough to serve us to practice other disciplines before we decide to buy something new. I hope you approve that too.
So let's get back to the main subject – accessories for SUP.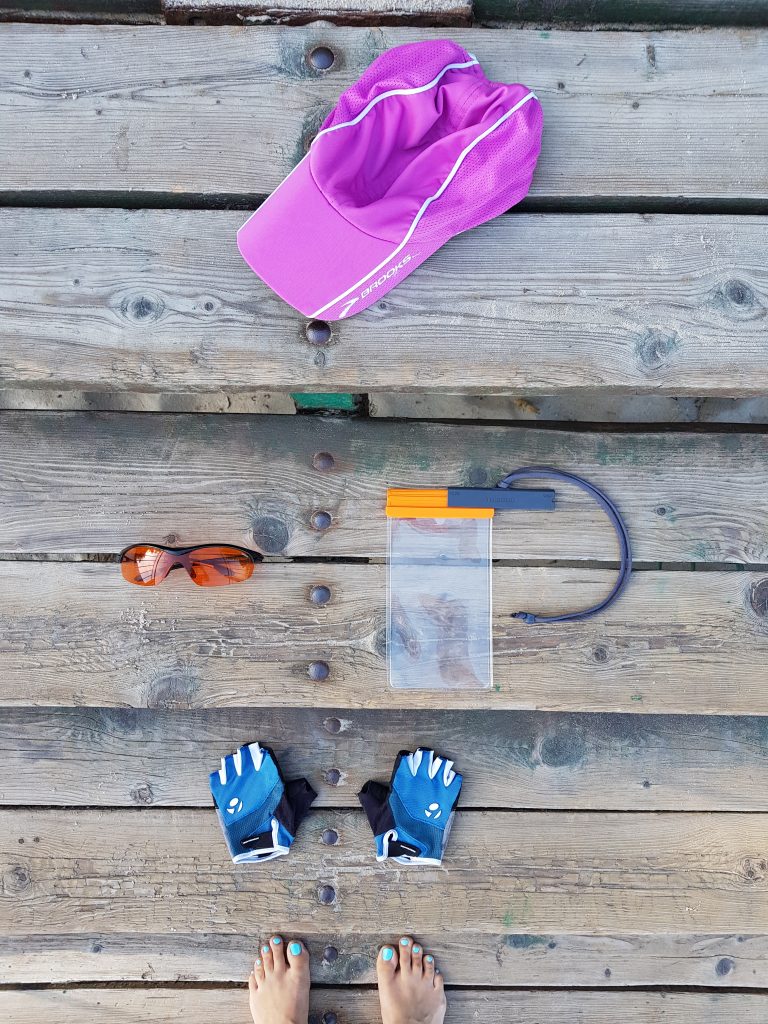 running cap – Brooks
sunglasses – Brenda
waterproof pocket – Itiwit
cycling gloves – Bontrager
We expose our bodies to harmful UV rays when doing water sports. Prolonged exposure to the sun, wind and contact with salt water may adversely affect our skin and eyes.
It is impossible to float on SUP without sunglasses. I tried. It doesn't work. The sunrays are blinding reflected from the water surface. The light is so strong that we may lose the orientation. We close the eyes which are pinching and tearing. We cover our face with hands instinctively which prevents paddling. We can lose balance and fall into the water. Do you really need that?
I don't move without my favorite orange glasses from Brenda, regardless if I go cycling, ride rollerblades, a snowboard down the slope, float on Shark. Thanks to the lenses with UV 400 filter my eyes are protected against UVA and UVB rays. The glasses are light and comfortable. They don't fall during the movements. They are in good condition despite a long period of use.
"You will get sunstroke, put something on your head!" it is the most often phrase that I hear before I go SUP. I return for my hat appreciating the care. This is an 2 in 1 option that shields my head and eyes from the sun. It is a typical running cap, so it is light, well wicks sweat away and dries quickly. It doesn't deform being put into a pocket or backpack. Maybe pink color of the hat doesn't match the rest of my sport clothes, I don't look well in that either but what counts it is its functionality.
Sun protection is the key. Let the taking protective glasses and headgear become your habit just as you care for your skin by patting a suntan lotion in.
The phone, car keys and flip-flops are the minimum that I take on my SHARK. While I fix the latter one to elastic cords on the board (let's call it 'trunk'), so the first two require special treatment. I hide valuable items into airtight pocket made of thermoplastic polyurethane. It is easy to open and close. I avoid wearing it around my neck. I prefer to tied it through the trunk cords to minimalize the risk of drowning the gadget with the contents when falling into the water. The cover is not only waterproof but also allows the phone to be operated through the foil. It is affordable, it costs less than 30 PLN. Disadvantages: it is hard to put the phone into and take it out, sometimes the pocket moisture inside.
I recommend investing in a waterproof backpack for fans of longer distances on the SUP board, where they may pack clothes, food and other things. Personally, I like the sailing bags produced by Itiwit, available in fashionable colors and capacities in the range from 5 l to 60 l, so that you may collect practical sets for a short trip or a few days' rafting with one collection. I think I will yield temptation and buy the smallest one.
There is a scene in the movie "Gone With the Wind" when Scarlett O'Hara visits Rhett Butler in prison in Atlanta. He takes her hands and knows that the purpose of the visit is aimed and her life situation is difficult. Her hands – destroyed by physical work on the cotton field, but not horse riding without gloves as she said – betray everything … I don't know why but this part of the movie appears in my head every time I grab the paddle and go floating. I don't approve to SUP without a pair of sports gloves. On the one hand they facilitate paddling, on the other hand they protect hands against callus. I used to wear this model to ride my bike, practice Nordic walking or Nordic skating before I bought SHARK. They are light, soft and comfortable. They ensure securely holding the paddle. I wear them to protect my hands from cold during Autumn too. The gloves look like new ones and the material hasn't been stretched, damaged despite of 3-year period of heavy use and frequent washing in the washing machine. Unfortunately, they soak up after contact with water. They are good enough for my needs although they don't equal to neoprene ones. Do you have similar at home? Try them out. If you aren't satisfied, simply buy a professional dedicated to water sports.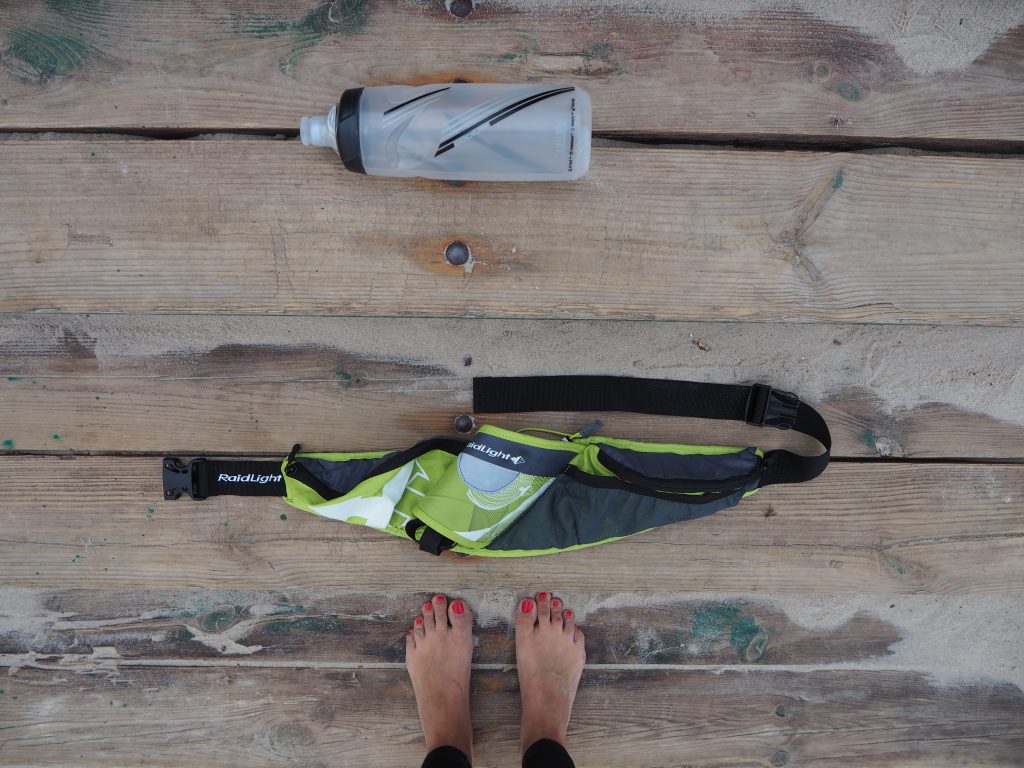 water bottle – Camelbak
bum bag – RaidLight
There is nothing as annoying as the fight to open the backpack and search its contents for a particular thing which becomes a real challenge especially when floating on sea in difficult weather conditions. I faced such situation last month. I couldn't reach my bag for a bottle of coconut water. Waves swayed the board and the wind pushed it as it wanted. I was afraid to lean towards the trunk without losing balance and control over the equipment. I didn't predict that I would overcome the distance of 4 km (which takes me 45 minutes in normal weather conditions) in 2 hours without possibility of drinking.
I have been a surfer for over a year and only now I came up with the idea of using a running belt for floating on SUP. The gadget has two zipped pockets, ideal for holding bars, energy gels and a place for a bottle. I avoid attaching the belt to my hips. I don't want to injure my body when falling on the board or into the water. Because I follow a safe principle of consumption in a sitting position during breaks, I prefer to attach the belt to the trunk which allows quick and easy access to food and drink.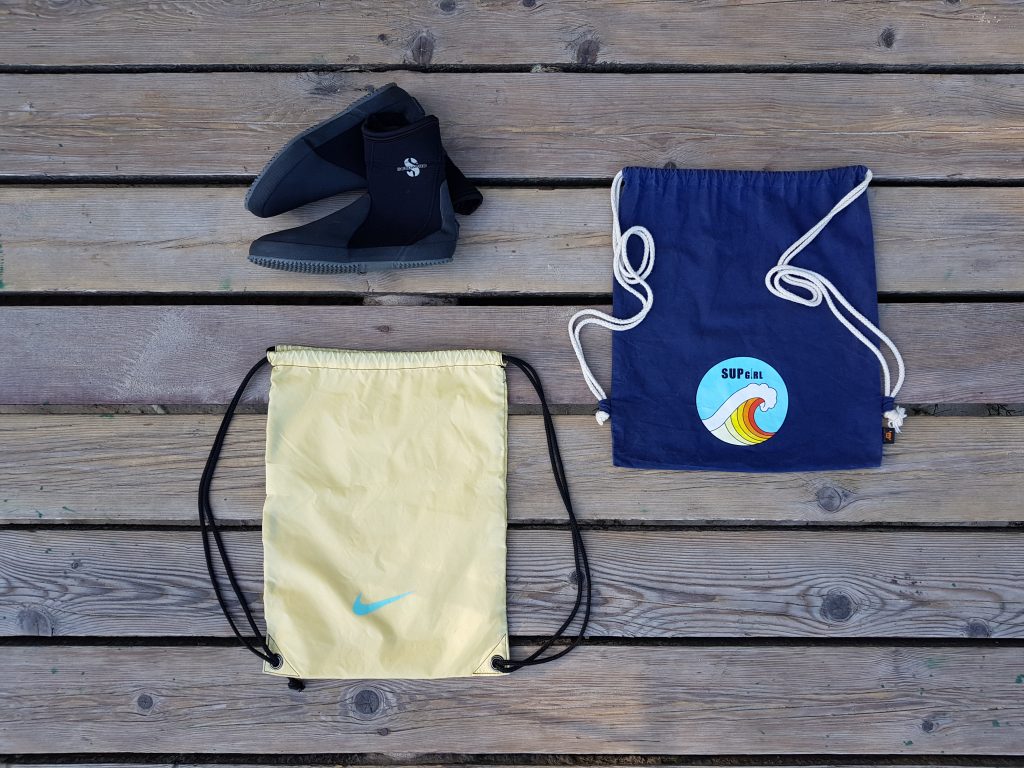 nylon yellow bag – Nike
cotton navy blue bag – SUPGIRL
I rarely take on the board bags. If it happens I put flip-flops into them, something to drink. I don't put anything valuable in there because they aren't waterproof. I usually use such bags to transport the leash, the fin and to store them there during off-season.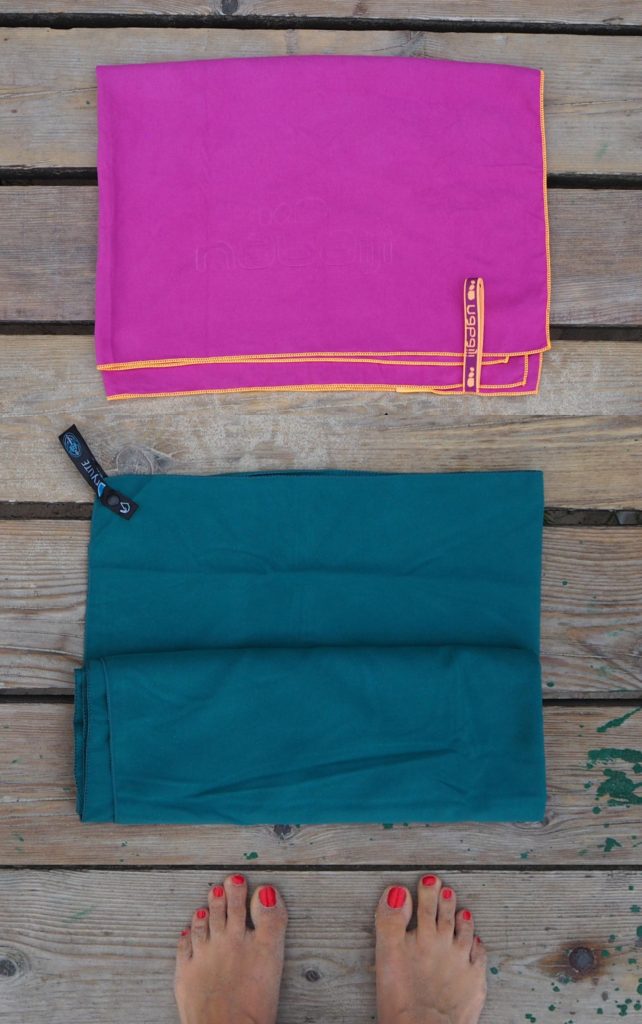 pink towel 65x90cm- Nabaiji
green towel 75x150cm- SEA TO SUMMIT
It has become old-fashioned to take bath towels (these bathroom ones) since microfiber towels are available on the market. They are comfortable in use. They absorb water well, dry quickly. What is important are light and take up little space in a bag. Available in various sizes and colors. Everyone may choose something for themselves. I guarantee, you will fall in love with them at first use. It's a good purchase.
Search your wardrobe. Remember to concentrate on the practical aspect and the possibility of using gadgets on SUP instead of matching them to the outfit. Be wise. Think whether the purchase of another hat for collection or gloves makes sense. Maybe it's better to invest in a good quality waterproof backpack or pocket that will protect valuable stuff from destruction.
Inspired? So do it!