I'm not a big fan of celebrating the New Year's Eve. During last 5 years I was sleeping at the change of the years wishing myself not only speed up the moment of farewell the old year but also tranquilise anxieties about my future in the New one. Usually I spent that time in my bed or watching TV from the sofa in pyjamas made of hope and wrapped in a blanket of my expectations for better future. My optimism was enough to last for a few days. The first week of January usually was the crucial one which foretold how the rest of the year would be like. My private life was badly impacted by the hard situation in my previous job. When I thought that my life situation couldn't be worst, I was proved immediately that I need few meters more to reach the bottom. That is why surviving another 12 months was my New Year's wish during seasons. Helplessness, financial instability, tiredness, lack of motivation were my ballast which I cut off in October 2016. Job resignation was a turning point in my life that let me get back to the surface. Return to normal life took me whole 2017. Both stabilisation and balance in my life came in 2018. I realized how positive impact on my behavior, thinking and life conditions during last 12 months had cushy job and financial stability. I found advantages in my unemployment, which lasted all 2017, I could not only verify my needs but also learn how to manage small budget thriftily. My New Year's resolutions in 2017 and 2018, stopping me from buying clothes and books at least for 1 year, helped me to get rid of unnecessary shopping. Thanks to that I found out that – except job – floating on my SUP board, trips to the seaside from time to time, going to the cinema, vernissage, drinking good coffee with friends are my basic needs in life. I appreciate a chance to become somebody new in my professional life and consequently the possibility of developing in the area I was a rooky a year ago. I finally regained the sense of security, which I consider as the most important achievement in the past year.
In 2018 I managed for the first time in my life to:
be mentioned by the editor Twój Styl. The publication of my letter in the magazine was enough reward for me and the gift sent to me a big surprise and a pleasure. I saved the May issue as a souvenir and proof that it is worth sometimes ignoring our inside voice, get the courage and go beyond the patterns.
float on my SUP board during rain. Funny feeling, great fun and effective refreshment in hot days. On the other hand, this new experience showed me my powerlessness to weather changes which may be a threat when floating in the middle of a lake. A valuable lesson for the future.

have a learner. I was surprised being asked for SUP training by my workmate. The lesson took part in August's afternoon. I didn't feel stressed because the weather was beautiful and I didn't expect any problems if he would fall in the water. I was warried more about the technical condition of the rented board than the learner. Personally, I would be ashamed to give broken or incomplete gear to anybody if I had my own rental shop. That is my private small digression;

buy the wetsuit thanks to which made floating on my board possible during off-season. I think that choosing the best one for me was the biggest challenge and the purchase of the year;

take a business trip to Netherlands , the first foreign one in my life. That were very productive 3 days. I spent my afternoons working on my blog. The hotel restaurant turned out to be the best place to write. My favorite table with the view of the canal with swans (masters the second of the background), good coffee and cake were my motivators for hard work and excuses to spend free time in pleasant atmosphere;

participate in

Perspektywy Women in Tech Summit

conference;

belong to the group of 4 winners of photography contest organized by my current employer. My photo of Krakow's the Main Market Square was chosen for the company's calendar and will be visible on the office's walls in March.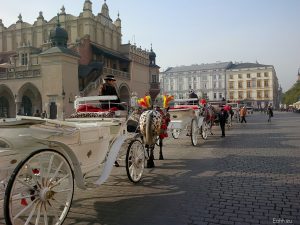 I wasn't able to:
present the final layout of my blog,
learn editing films,
quit the sequence with my previous employer, which has given me sleepless nights for 2 years,
participate in the Surf Film Fest Berlin,
become a member of winter swimming group although I consider floating on the board during the off-season equally demanding.
The New Year's resolutions for 2019?
None. I don't want to restrict myself this year. I'm going to enjoy life, appreciate small pleasures and SUP as often as possible which is the most important for me. 2018 was really peaceful and successful year, the first from last 5 years, that is why I dare not ask for more. For me it's great as it is.