Red Paddle Co
Does this name say anything?
It is the leader in the production of inflatable SUP boards which delivers the highest quality products worldwide since 2008. It's equipment is a result of passion, experience, determination and striving to perfection. These are innovative materials and technologies giving it's products the highest position in rankings.
My interest in Red Paddle Co company appeared two years ago, when I enter their website. The advertising film involved me so much that I was watching it over and over during next few days. Immediately I fell in love with their boards. Simple design, informed and sophisticated solutions impressed me, but the prices… So far, the equipment is beyond my financial resources.
I found a distributor of Red Paddle's Co products in Warsaw Poland. I used the opportunity in November 2018 during my stay in the capital for the Summit Women in Tech conference. I made an appointment with Artur Filipkowski. That is how I got to the King of Wake shop, the kingdom of SUP equipment I'm interested in.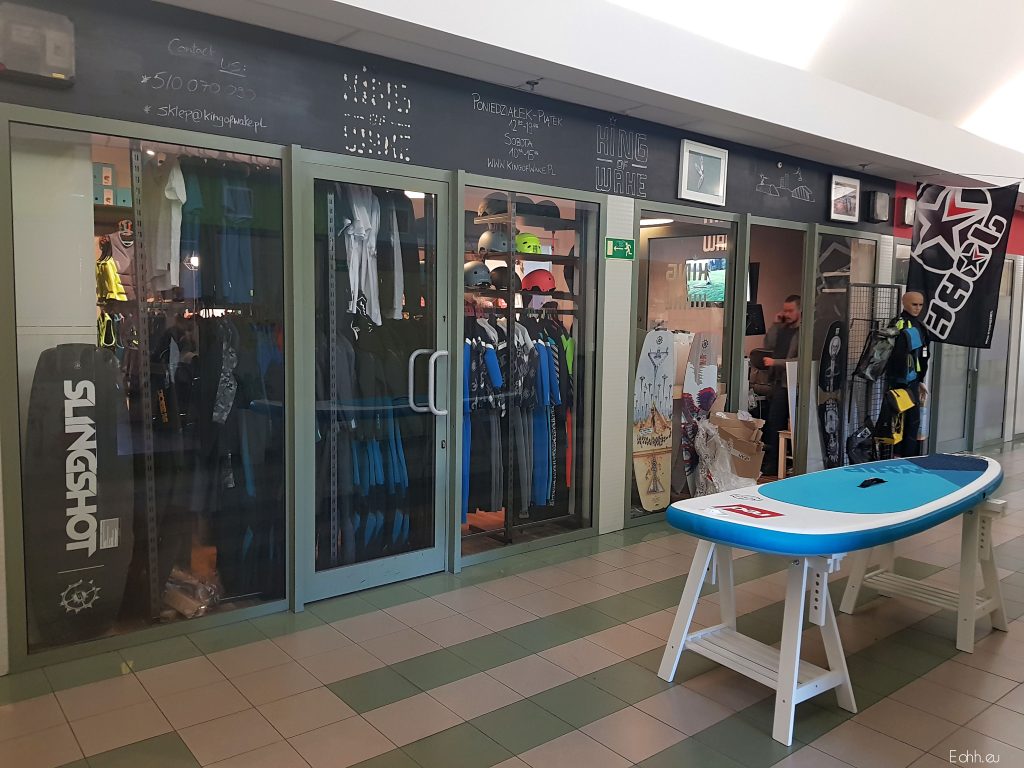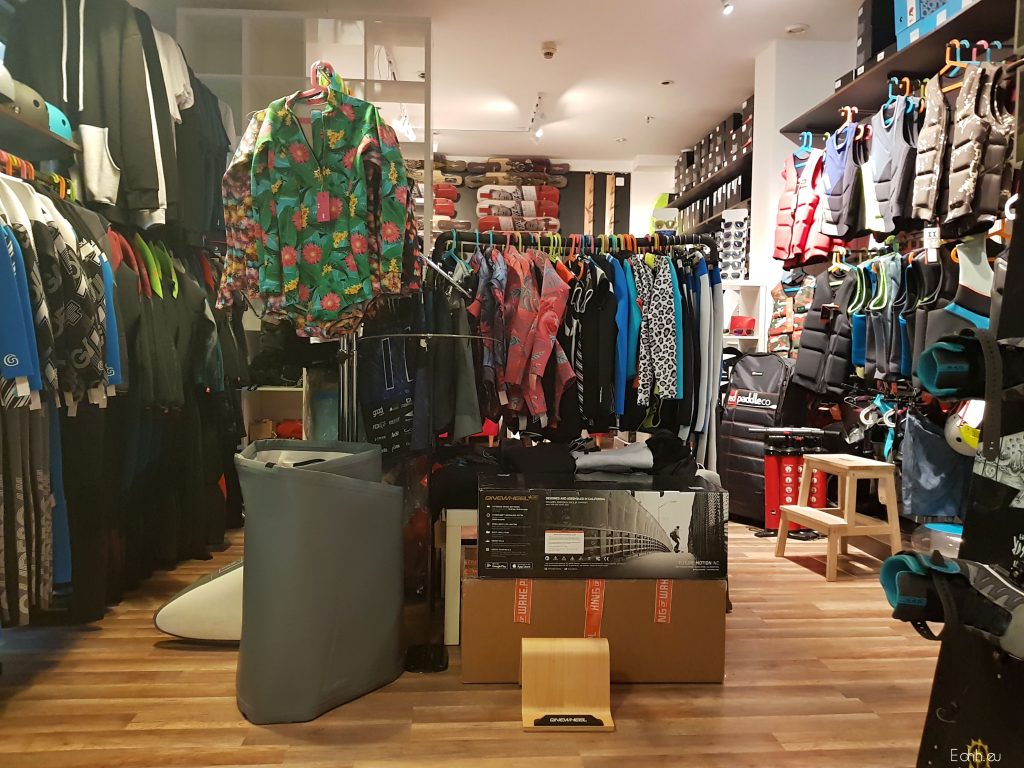 During the meeting I was feeling like a kid in a candy store. I saw different models of boards, such as: all round, race, touring. I liked the surfing one the most. I found out quickly that I deal with professional SUP equipment. I was impressed by the solutions, especially the RSS system. I paid attention to every detail. Mostly looking at the technology of production. I held a carbon paddle for the first time. The CAM LOCK system, which uses a steel cable to adjust the paddle's length, was new to me.
We found a quiet place, in a break between clients, so that I could conduct an interview with Artur who may talk about the Red Paddle Co equipment for hours.
I left the shop very excited. I knew that it would be hard to me to get rid of a desire to have my own board from this company. Surf SUP 8'10" Whip model is the one that I dream about.
I was waiting to publish the information about my favorite producer of SUP boards till Spring to start the series of posts on my blog supporting you in preparation for the SUP Season 2019.
It is to start 24th April. So today I am introducing you the Red Paddle Co company. It is worth getting to know their offer, especially if you are at the stage of searching for a SUP board for yourself.
Can you decide which company to trust choosing the equipment? My suggestion is clear. Read an interview with Artur Filipkowski, a sales representative of the Red Paddle Co company in Poland. Maybe he will help you to decide.
Engineer On High Heels: How popular is SUP in central Poland?
Artur Filipkowski: At present this sport is very popular. We have a lot of water reservoirs in the region where the users of SUP boards are more and more often seen. SUP schools and equipment rentals play a large role in promoting this sport thanks to which SUP has become recognisable. In the result, interest of spending free time on the water has increased.
EOHH: Which models of Red Paddle Co boards are bought the most?
AF: Definitely all round, for example: Ride 10'6″and Ride 9'8″. This model is the best for beginners. The board is stable, so provides comfort to people who take their first steps in this sport. What is more, it is good in all conditions: on rivers, lakes and sea. Therefore, it is recommended to those who haven't specified needs. The focus on the form of activity you want to practise while floating on the SUP board comes with the skills development. After while you find out what you want to do: race, surf, or take long trips. The choice of personalized equipment, appropriate for your needs, is the next stage in this sport.
EOHH: What is unique in Red Paddle Co boards?
AF: Red Paddle Co is the company that focuses on modern technologies and innovative solutions available only with them. All of this is to achieve extremely stiff, fast and durable product that can easily competes with the parameters of hard boards. The MSL structure – double layer – is characteristic for their trademark. They are first to use RSS battens – system to stiffen the board. Boards are covered with a special antislip deckpad providing perfect bond. The appearance of boards, their design is another advantage. And, of course, accessories. Red Paddle Co has the best. Bags are practically indestructible.
Red Paddle Co boards are fast and stiff. It is the most comfortable, the most durable equipment available on the market. Nothing can happen to it. What confirms our clients who have been floating on the Red Paddle Co boards for 10 years now. I suggest you watch videos from equipment tests.
EoHH: What the company was aiming creating a new boards collection for 2019?
AF: Now Red Paddle Co creates smaller and smaller boards. The company focuses on comfort floating and transport. They believe that the ease in equipment transport is an advantage for everyone. Therefore, the year 2019 will belong to the 9'6″ Compact board, which fits in the backpack of size 56 cm x 42 cm. Of course, the board is made in the same technology without losing it's quality.
EoHH: You are the only distributor of Red Paddle Co products on Poland, aren't you?
AF: Yes. We are a direct distributor. Their equipment is accessible only in our shop.
EoHH: How do the formal and logistic matters look like when order equipment online?
AF: You may order the equipment via website kingofwake.pl or redpaddleco.pl
If a model is not available on stock, it takes about a week to deliver.
EoHH: How about returns?
AF: Such situation has never occurred. You are permitted to withdraw from the agreement in 14 days from the purchase date.
EoHH: What is the warranty period?
AF: It is 2 years.
EoHH: Why is it worth buying the Red Paddle Co board?
AF: It has the best quality. It is equipped with the best accessories. It's durable, which means you're buying a board for years. We haven't had any complaints since we started selling the products. All our clients who bought the Red Paddle Co equipment are very satisfied.
The equipment is slightly more expensive from competition ones, but you pay for the high quality. In my opinion it is worth spending a little bit more money to enjoy the equipment for 8 – 10 years, instead of buying a board for short use like2 – 3 years. Red Paddle Co is the top brand. In fact, everything is perfect: from boards to accessories, customer service. Everything what Red Paddle Co produces is outstanding. That is why we decided to distribute their products in Poland.
EoHH: Thank you for the meeting and chat.
AF: You're welcome. I would like to invite you to our website and our showroom in Warsaw. Feel free to test. It's best to rent the equipment to check what it means to float on Red Paddle Co products by yourself. I guarantee you will feel a difference and will be delighted.
Use SUPGIRL code to purchase any Red Paddle Co SUP board model with 20% off, valid till June 1st, 2019.